LFC FEATURES
Home → LFC Features → Mark Gonzalez: In depth
IN DEPTH: MARK GONZALEZ

by Koolkidda (23 July 2006)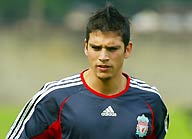 22 year old Mark Gonzalez was born in Durban, South Africa but plays his football for his native Chile.
The exciting winger, who prefers playing on the left side (sorry Harry!), has been closely followed by Liverpool for a couple of years before finally, in July 2006, a second work permit application was accepted by the UK authorities and the player became Liverpool's latest signing.
The player had originally agreed a loan deal for Liverpool for the 2005/06 season with his club Albacete but the initial work permit application was turned down. Liverpool signed the player in October 2005, but he was immediately loaned back to Albacete. Liverpool then arranged for the player to move to Real Sociedad on loan until a new work permit application could be made 12 months later.
Gonzalez put in some superb performances for Real Socieded after returning from a cruciate knee ligament injury, most notably scoring the equaliser against Real Madrid at the Santiago Bernabeu (click here to watch Mark's performance).
Real Socieded, obviously, wanted to make the deal permanent but Mark himself reflected Liverpool's feelings. He said: I am very thankful to Real Sociedad and their coach Jose Mari Bakero, but while they'd like me to stay I'm going to England to join Liverpool.
An incident with the national team, saw Mark retire from international football at the tender age of 21 after having no faith in his international manager.
Career Stats:
2002-04
Universidad Cataloica (Chile) P 42 Scored 10
2004-05
Albacete (Spain) P 25 Scored 5
2005-06
Real Sociedad (Spain) P 15 Scored 5
Career Total
Played 79 Scored 20
International (Chile)
Played 14 Scored 3
Last updated: March 21, 2007