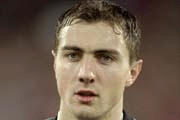 He's had his ups and his downs under Rafa Benitez' managerial reign – but Jerzy Dudek who approaches his final Liverpool game insists that Benitez will deliver the title to Anfield.
"We are all happy with the way we have played in the Premiership in the second half of the season and I feel we are not too far away from winning it," Jerzy said in an interview with the official LFC Magazine.
"Rafa knows what he has to do to take the club across the finishing line. If he is able to bring in quality players in the summer in one or two key positions, then we will be very close next season.
"If it doesn't happen next year, then the Premiership will be at Liverpool soon."
The 34 year old has not taken his decision to leave Liverpool lightly.
"It makes me a little sad that I won't be here on the pitch to enjoy a title success but I will be watching from wherever I am. I will be as happy as any supporter from the Kop," he said.
Dudek also had some fine words to say about the man who effectively took his job off him.
He said: "Everything Pepe Reina does he does well. He does things in a way that gives confidence to the rest of the team.
"He will come for crosses all the time in certain areas, which takes the pressure off the defence, and his distribution of the ball is better than some midfielders. He can launch the quickest counter-attacks in the Premiership.
"Since he has come here we have always done well – and the two things are not a coincidence."