Rick Parry today outlined that Liverpool's new stadium will be slightly less fanciful than the design unveiled a couple of months back, but still a major improvement on the initial design.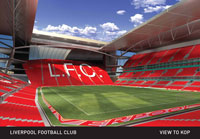 Speaking after meetings with the Chairmen he said:
"We are now considering two schemes but the stadium will be a 70,000 seater.
"The new stadium will be a significant improvement on the original plans and a slightly downgraded version of the new ones.
"And it will be a massive improvement on where we were 12 months ago, if not quite as dramatic as the plans unveiled in the summer.
"The single tier Kop remains fundamental to the design and we are not expecting any delays – it should be on schedule for 2011."