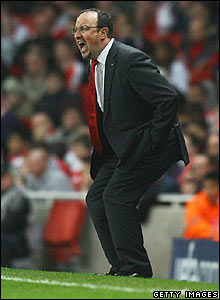 Despite the turmoil at Anfield over the last few months, Rafa Benitez today attempted to rise above it all, stating only that his recent Melwood meetings with Tom Hicks had been 'positive'.
Benitez had initially been wary about meeting Hicks without Parry or Gillett around but everyone concerned is believed to have understood the contents of the discussions.
"We have had a very positive meeting," said Benitez.
"We need to work together and he (Hicks) agreed we must talk together. If we want to go forward and sign players, we have to all work together."
Touching on the boardroom feud, Rafa added:
"I have not spoken to them about the ongoing situation, only how to improve and how to progress."
"Everything is positive. We have talked about targets to sign, that is my aim.
"I do not doubt we will achieve those targets. I have a scouting department that is working and progressing. Now I have told the owners how we need to progress.
"Rick Parry will be working too, and if everyone works hard and we work together, it will be easier.
"Clearly, I expect agreement on recruiting players for the summer. We are ready now for going forward.
"Now we have had a meeting, we are in a better position. We need to think about our games at Birmingham and Chelsea, but we must also think about improving the squad."
In a reminder to both Chairmen and Rick Parry, Benitez reminded them of how he operates:
"George knows about what was said, everybody knows. Everyone has the same information."