FA Premiership
Sat 8th November 5.30pm @Anfield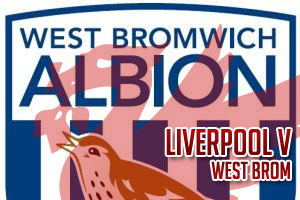 After last weekend's defeat at Spurs, Liverpool will be looking to regain the impetus in the league when they taken on another relegation side at Anfield.
Despite losing to bottom placed Spurs, the reds will be hoping that 19th placed West Brom will prove less of a challenge.
Liverpool last lost two consecutive Premiership games in December 2007.
The Baggies have won 3, drawn 2 and lost 6 of their Premiership fixtures this season.
The reds will be hoping Fernando Torres can make his long awaited return from injury after a lacklustre time in front of goal.
History
Liverpool's last games against West Brom were in the 2005/06 season – a season which saw West Brom relegated.
West Brom haven't scored a goal against Liverpool at Anfield for 23 years – November 1985 saw them lose 2-1.  It's 41 years since West Brom took all 3 points from an Anfield clash.
Since the inception of the Premiership, the reds results against West Brom both home and away have been: 2-0, 2-0, 6-0, 3-0, 5-0, 1-0, 2-0.
United beat West Brom 4-0 at home a few weeks back, and Arsenal won 1-0 on the opening day of the season.
Betting
Liverpool 1/4
Draw 5/1
West Brom 15/1 (!! What?)
Paddy Power are offering an impressive free £20 bet when you place a £10 bet. Bargain! The offer is here.
TV
This match will be shown live on Setanta.
Opposition Links
West Brom Fansite
West Brom Football Shirts

Pre Match Discussion
http://www.lfcreds.com/reds/index.php/topic,10369.0.html