There were press leaks in America on Tuesday about Dalglish being sacked, before yesterday the club made the announcement.  An announcement that in my opinion was far too hasty and plunges Liverpool into unnecessary chaos.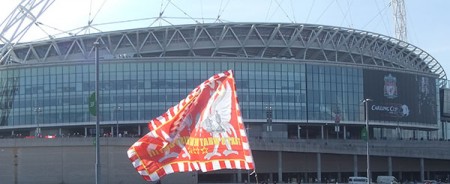 After 16 months in the job, Kenny Dalglish's sacking was announced by the club as the owners John Henry and Tom Werner, sat in the comfort of their offices 3000 miles away from Anfield.
Modern technology renders such distances relatively meaningless, but for many supporters this distance is symbolic of the owners lack of a grip on Anfield goings-on.
Previous club chairmen used to issue a motto on the rare occassions the manager was changed at the club.
Liverpool Football Club exists to win trophies and to be a source of pride to its supporters.
It seems that trophies are no longer of interest in the pursuit of cold hard cash - and Liverpool now look set to operate a revolving door policy of managers.
If fans, and worse still the owners, are not going to give managers the support and time needed then ultimately Liverpool will suffer.
There is no doubt about it that Liverpool had a disappointing league season.  As they have for the previous two but lets look more analytically at the situation.  The reds do not have the squad at present to mount a title challenge.  The reds do not have a squad big enough to compete in three competitions, never mind the four we will be in next season (thanks to Kenny returning European football to Anfield).
Despite the figures of transfer spend noted by some sections of the media, Fenway have invested an average of just under £10M per transfer window net in bringing in new players.  This is amazingly the kind of figure that David Moores was investing 5 years ago, before Tom Hicks and George Gillett rode in to town.
Many Anfield attenders this season will have seen a huge improvement in the football played, our results at home have not reflected our dominance for the large part and one striker in a rich vein of form would have had a field day this season.
But the owners, who appear to read newspaper opinion rather than watch games of football, have been swayed in to a decision that will not help themselves in the opinion of many of those who pay their money week in week out.  And their apparent short-termism will now affect the kind of manager, and the approach the next manager will take.
Whoever arrives at Anfield will know he has no time to build a succesful club for the future, but must bring in players for the season or two, and Liverpool simply can't afford financially to be that kind of club.
The owners will not find another manager with as much success as Kenny, and without having the experience of managing a club to league titles, and even the Premier League title.
Names such as Roberto Martinez, and Brendan Rodgers - whilst thoroughly nice man - are an insult to one of the toughest jobs in World Football.
That job has only been made tougher by Fenway Sports Group reckless, and ill-thought out decision.
But what are we promised now - another 'long term plan'.  The same 'long-term plan' they had set in place when they appointed Damien Comolli (a position now also vacant) - the 'long term plan' when they gave Dalglish and Steve Clarke 3 year contracts (vacant).
The vacuum at the top of the club was never more evident than over the Luis Suarez case - the failure of both the Managing Director Ian Ayre and the Communications Chief (a position now vacant) to get involved - meant that the football manager was placed in a ridiculous position dealing with FA legal cases and the club's response - when his priority was clearly the football on the pitch.
But now the decision has been taken.
So thankyou to Kenny Dalglish from saving us from the danger of relegation last January.  Thank you for winning our first trophy for 6 years, taking us back to Wembley (thrice) for the first time in 16 years.  Thank you for bringing European football back to Liverpool Football Club, and thank you for re-installing the ethos of dignity and professionalism to the club so lacking during the previous 5 years.
As for Fenway and the club's Managing Director - shame on you.
The decision to sack Rafa Benitez was a poor one.  This stinks even more.