FEATURES > WEBSITE REVIEW
LFC HISTORY.NET
It's the LFC encyclopedia!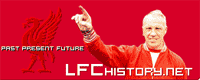 The mission statement of this LFC website is 'to create a simple and accessible website for Liverpool FC facts and historical stats'. This has been accomplished and this site is almost in a class of its own in providing facts about the mighty reds. I was hooked for hours.
One of my favourite features was the Random Player Profile which does exactly what it says! Ian Callaghan, John Shield, David Thompson and Reginald Blore (!) popped up in quick succession. Poor Reg from Wrexham only had one game for the reds, as a 17 year old during the start of Shanks reign before being packed off to Southport. He did put in over 200 appearances for Oldham later in his career.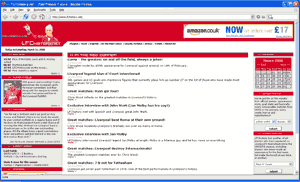 Stats and Milestones are also recorded in amazing detail. 141 own goals have helped Liverpool throughout the years, and we have banged in 422 penalties.
But on top of this the site is filled with great articles about previous classic encounters and interviews with our heroes from yesterday. It was great to reminisce about the classic games against the feared Internazionale when Liverpool and Shanks were relatively European novices.
The site is a definite bookmark addition, and is constantly being updated and corrected until ultimately it will be the 'official' LFC reference.
Verdict: 'A five star website, just like the club'

The LFC History Website
Ian Renfrew, Anfield Online, March 2006
---