Monday 10th November 2003
THE EDITOR: HOULLIER IS THE RIGHT MAN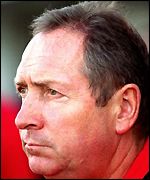 'Despite the events of this season - a pretty miserable start, although remember it is early days and we are still only 4 places off 4th. (Yes, I know it is hardly the heady days of the 60s, 70s and 80s but we must keep some perspective).
The man on the right inherited, in our opinion, the greatest football club in the world but with the biggest bunch of tossers representing it on the field. Arrogant, greedy and self-obsessed footballers who cared little for the shirt.
Gerard Houllier brought back to Anfield - the great dream. The dream of being as great as we were. He removed the spice boys, and bought big. Brought players to Anfield who were once again proud to wear the Liver Bird. None more so than this season when Harry Kewell turned down United and Champions League football and maybe even a guaranteed title to play for us.
The treble - remember that. No fluke. Won due to hard work, and a willingness never to lie down - do you think if we had carried on without Houllier we would even be playing European football now?
He's bought some donkeys - in our opinion one of them still plays but Houllier's Liverpool have improved dramatically season upon season, and this season we ARE a better side - unfortunately we have only one proven striker, and even he could be leaving. Liverpool must build on their successes, losing Owen, Baros and Hamann has dented huge holes in the side - the very fact we were the better side against United yesterday was tremendous credit to the squad approach which everybody thought would prove his downfall - it hasn't. The fact is that Liverpool are probably only one or two players short from being great again, I sincerely believe that.
And for the muppets who phone these radio phone-in's, every true supporter know these don't truly reflect Liverpool fans' opinion.
That's why we intend to continue supporting Houllier. We have faith that he will purchase the necessary players in the January break and ensure Liverpool return to the Champions League. If he doesn't then even by his own admission he will have failed.
But one day soon, when this new attacking side gels together, we're going to be right back up there. Keep the faith.
THE EDITOR
BBC