Sunday 27th June 2004
OWEN: GERRARD MOVE COULD BE DISASTER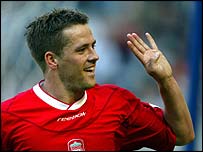 Steven Gerrard's departure from Liverpool would be catastrophic for the club, according to striker Michael Owen.
Liverpool captain Gerrard has been linked with a move to Chelsea, but Owen believes no amount of money could compensate for the loss of his England team-mate.
Owen is quoted in the press as saying: "I think it would be impossible to replace Stevie. He is the driving force and such a strong influence on our team.
"Last season he was our player of the year by a country mile and it would seriously weaken the side if he were to leave.
"I am merely echoing what all Liverpool fans would be thinking by describing it as a catastrophe.
"They would expect the club to sign two or three world-class players with any money they received for Stevie and I feel the same.
"But I don't know what the future holds for him. As far as I am concerned it is just newspaper speculation at the moment. I hope that Liverpool would make every possible effort to keep him."
The Telegraph
---