Wednesday 26th May 2004
PARRY TAKES OVER CISSE TRANSFER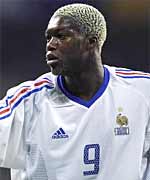 Rick Parry has confirmed that Djibril Cisse will arrive at Anfield on July 1st, whether or not the new manager wants him in an expression of exactly who is in charge of transfer policy at Anfield.
"Cisse is a very exciting player with a good goalscoring record", Parry said. "He has pace and power and all the qualities a modern striker needs. He is someone who we believe is capable of scoring 20 goals a season. "

"I don't think you could have taken the decision not to sign Cisse just because we have parted company with Gerard."




Anfield Online
---