Sunday 21st August 2005
ANFIELD ONLINE NEWS
NOBBY TO ENGINEER MOVE TO ANFIELD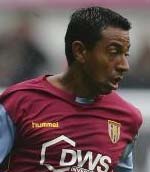 Nolberto Solano wants to join the reds and is set to sit down with David O'Leary and ask for a new contract in an attempt to join Liverpool.
"It's Liverpool," Solano told the Peruvian press. "It's not just any team that is interested in me.
"It's the team that has won the last Champions League and will surely fight for the title in The Premier League.
"I am under contract at Aston Villa until May so to make them let me go I am going to ask for a two-year deal and that will make them let me go because the club doesn't want that.
"On the other hand, I am proud that Aston Villa doesn't want to let me go because that means you have done your work correctly.
"In addition to that maybe the officials don't want to have problems with the supporters because I had been chosen as the best player of the team last season.
"Besides all this, I have to sit down and have a conversation with the coach David O'Leary and tell him that this is a nice opportunity for me and my career.
"Maybe that will convince him to let me go."
News report filed by The Editor