Wednesday 22nd June 2005
ANFIELD ONLINE NEWS
CZECH'S FURIOUS AT REDS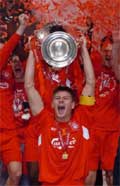 Slavia Prague are set to lodge a complaint to Uefa over their decision to seed Liverpool for UEFA Champions League qualifying.
The Reds secured their position in the qualifying stages through the back door, having finished out of the top four in The Premiership.
Uefa have decided to make Liverpool work hard to reach the group stages, as they have placed The Reds in the first qualifying round.
A boost for the defending champions, though, is that they have been seeded for qualifying which will, in theory, hand them an easier passage to the group stages.
Slavia are claiming that they have been the team to suffer on account of Liverpool being seeded and are set to make their displeasure known to Uefa.
"We are unhappy the rules are changing during the game," Slavia media officer Alexander Kliment told Sky Sports News. "Uefa announced that if they change the rules, it won't harm any other clubs. But we are harmed.
"We have lost our seeded position in the third round because we were the last seeded team and now we are unseeded.
"We could now, for example, face Manchester United, Liverpool or Anderlecht when we would have faced, for example, the Israeli champions or Hungarian champions, so our position is worse now.
"We are communicating with the Czech FA and the fact that we are unseeded means we will submit an official protest to Uefa."
However, despite their unhappiness, Slavia could be disappointed as Uefa have said that they will not amend their decision.
"This was never going to be a win-win situation for everybody," said Uefa spokesman William Gaillard.
"We have tried to find a solution that is the best but it's obvious there will have to be some sacrifices.
"We are sorry about that but it is only for this year, the executive committee have made their decision and that's final."
News report filed by The Editor