Thursday 19th May 2005
ANFIELD ONLINE NEWS
CISSE LORDS IT UP!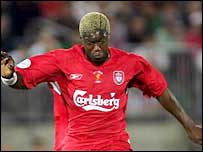 Djibril Cisse has infuriated the local hunt by banning it from riding across his land in Cheshire. The £14m Liverpool player became Lord of the Manor of Frodsham when he bought the £2m house overlooking the Mersey this month.
The title, used by Edward the Black Prince in the 4th century, is traceable to the Domesday Book and gives the bearer the right to allow hunting on the property's nine acres.
The Liverpool striker, 23, made his ruling after the Animal Rights Coalition urged its members to write to him, asking him to ban the hunt. The Cheshire Forest Hunt, which was invited to use the land by the previous lord of the manor, responded by inviting Cisse to join it.
Yesterday, Cisse said bluntly: "I will not allow hunting on my land." He is among several young individuals buying titles, said Charles Mosley of Debrett's Peerage, which has voiced concerns about how the legal right to use a purchased lordship on official documents is devaluing the genuine, honorary titles.
"These titles signify nothing," Mr Mosley said. "They should not be confused with titles of honour - a mistake many people make. Hitherto, it has not been something footballers have gone after but they are millionaires now and a title is something to add to their possessions."
Cisse is not the first self-ennobled sportsman to encounter difficulties after his initial purchase. The boxer Chris Eubank also wanted a lordship and became Lord of the Manor of Brighton, complete with rights to 4,000 herring and three cows annually. But within a year of adopting the role with gusto, he faced a rival lord. The Brighton manor was divided into three during Edward the Confessor's reign, but nobody told Eubank about the other two.
The Cheshire Forest Hunt said yesterday that it "would like the opportunity" to meet Cisse. Hunting with dogs is a criminal offence. But flushing foxes to be shot using no more than two hounds, exercising hounds and chasing a scent trail are legal.


News report filed by The Editor (source: Independent)