Sunday 16th April 2006
ANFIELD ONLINE LFC NEWS
ALONSO BACKS FOWLER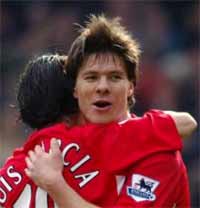 Xabi Alonso reckons Robbie deserves that contract.
"Robbie is a great player," enthused Alonso. "There has been a lot of talk about whether he will be with us next season but he is doing his job very well.

"As a finisher, he is an absolute killer inside the penalty area. What sets him apart is the way he takes advantage of half chances when the ball is loose. He is lethal when that happens.

"Robbie has created an excellent atmosphere in the dressing room. He's a very opinionated man and he's very, very funny. Robbie definitely represents the great sense of humour that Liverpudlians are famous for!"

Alonso travels to Blackburn with Liverpool today hoping for another three points in the race to try and overtake Manchester United for second place, but knows how difficult a game it will be for the Reds against Mark Hughes side.

"This is a hard game for Liverpool," insists Alonso. "Blackburn's style is very aggressive, so we know they will be hounding us and trying to win the ball back every time we have it. The best way for us to cope will be to move the ball around quickly by playing fast, passing football.

"That way we might be able to combat their strength and powerful pressing game.

"The man that typifies Blackburn's style best is Robbie Savage. He plays each match as if it's his last and that desire is a very important thing for his manager.

"I don't think we can be too disappointed with our form. We have done our best but Manchester United have been in good form, so it is very difficult for us to catch them.

"All I can say is that we'll try and overtake them. To do that we need to win every match."

Discuss this news item with other fans in our forum
Anfield Online