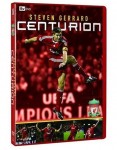 Released earlier this month, the Steven Gerrard Centurion DVD celebrates Steven Gerrard's impact at Anfield which culminated in his 100th goal for Liverpool earlier this month.
This DVD is far from the run of the mill DVD's out there.  Even me, with the attention span of a gnat, was glued throughout.
The DVD features not only exclusive interviews with the Captain, but also Rafa, Gary Mac, Danny Murphy amongst others.  The main feature is excellent, combining interviews with Gerrard along with defining moments in his Liverpool career - the Istanbul final, the UEFA Cup final, and something about some FA Cup final... did he play? 😉
As well as the main feature the DVD has a separate feature showing you all 100 goals in chronological order which is great to watch as well.
On the main DVD the story is put together well.  Just like watching that Istanbul final again - this DVD does at times make the hairs on the back of your neck stand-up.  I especially loved the part where they overlaid the commentary of John Aldridge (who now commentates here in Liverpool with Radio City) over the video of his goals.
This had me, and even the missus who had forgotten she was missing Eastenders, glued to the TV.
RRP is £19.99, but as ever you can get it much cheaper online.