The good folks at No.1 Fan have sent us along one of the new official Liverpool FC Number One Fan toys to take pride of place on our desks.
Now I don't know about you, but sometimes I get fed up at Anfield when plenty of people fail to get in to the 'Anfield spirit'. The people who don't hold aloft a scarf and sing to YNWA – or even the type who don't seem to know any of Liverpool's famous songs.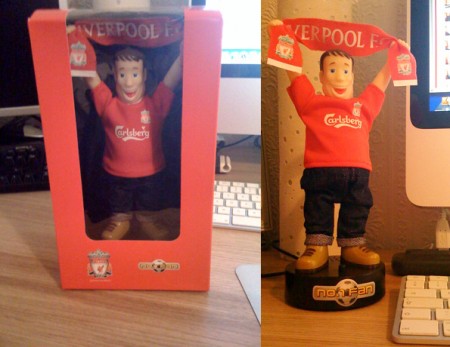 This little fella (if you can call 9 and a quarter inches little) doesn't have that problem. He knows the songs. He's got a scarf (and it's a proper red Liverpool scarf – not one of those with Chelsea on one half) and he's even got a bit of a beer gut and double-chin so he doesn't make us look bad.
Fire him up with three AAA batteries and tap the button and he will reel off one of 5 famous reds chants, including YNWA and Fields of Anfield Road, all while swaying with his scarf.
Whilst you may think this would be ideal just for kids, the uses for it are endless.  In my last place of work I had to sit at a desk next to a bitter Evertonian. Oh how I could have silenced his voice by firing up 'tubby'.  Take it down the pub after we've beaten Everton or United (he's not a big drinker though). Stuck at home watching the reds on the box? Stick him on the side of your chair and sing YNWA together. Got Tom Hicks' and George Gillett's telephone number?  Ring them up and give them a sing song.
It retails at £19.99 and can now be purchased online with delivery worldwide.
Official Number 1 LFC Fan Video