LFC FEATURES
Home → LFC Features → 100 Years of the Kop
100 YEARS OF THE KOP

by Koolkidda (18 Aug 2006)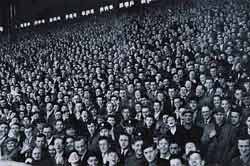 It's the greatest football stand in the world, but less of you may know that it will be celebrating (as best it can) it's 100th birthday on the 26th August 2006 when the reds play West Ham at Anfield.
When Anfield was first taken over by Liverpool ground improvements were slow, with the Main Stand and a stand on the site of the Anfield Road being constructed first.
In 1906, following the reds 2nd Championship victory the club directors built a stand on the present Kop site. It was a local journo from the Echo who christened the stand 'The Spion Kop'.
The Spion Kop was named after a hill in South Africa where many members of a local army regiment had died during a conflict in the Boer War.
The stand was redesigned in 1928, allowing a huge 30,000 people to stand in. The stand itself could hold much more than many of the entire football grounds in the country at the time. After 22 years, reds fans also got a roof on their kop.
Minor modifications over the years followed, but it was in May 1994 that the biggest change of all came when following the Taylor report in to the Hillsborough disaster, the stand was rebuilt as a 10,000 all seater single tier.
For those who can remember standing on the Kop on those chilly winter European nights then the feeling will no doubt stay forever. The singing, the swaying, the exhiliration of a goal being scored only for you to find yourself having moved about 18 feet (in any direction).
Personally I have my own unique memories about the Kop. My first game as a child was sat in the Anfield Road, and I remember looking over at the swaying mass in the Kop longing to be there. When I eventually 'matured' in to a Kopite the experience didn't disappoint.
For me there is no greater place to be in football.
Although the atmosphere has weakened in recent years, on it's 100th birthday I hope all reds sitting in the most famous stand in football give it their all, and belt out one magical version of 'You'll Never Walk Alone'.
» Post your memories of The Kop in our forum
The Kop (1960's)
The Kop today
Last updated: March 21, 2007