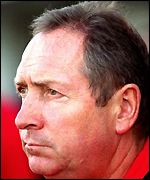 Liverpool boss Gerard Houllier insists his team's Champions League qualification is still in their own hands despite the 2-1 defeat by Manchester City.
The Anfield side travel to Chelsea – their only rivals for the one remaining Champions League berth – for the last game of the season needing a win to reach Europe's top tournament.
Chelsea are ahead of Liverpool on goal difference and need only a draw to qualify and relegate the Merseysiders to a Uefa Cup place.
Liverpool have a poor record at Stamford Bridge but Houllier is hoping his side's away form this season will come to their rescue.
"It is still in our own hands to qualify," insisted the Frenchman.

"West Ham have beaten Chelsea and that puts us both on the same points, so if we win at Chelsea next Sunday then we go into the Champions League.

"It is our home record that has let us down this season, depriving us of about 10 points, but our away record is among the best in the Premiership.

"We do well away from home and we know if we win at Stamford Bridge we qualify. My players like cup finals, we win them, so we can win this last game.

"We've come back from a period of despair and 10 games ago nobody would have thought we would be in this position, still going for it.

"Now we know that if we win at Chelsea that's enough to qualify."
Houllier saw Milan Baros give Liverpool the lead against City only for Nicolas Anelka to return to haunt his former club with two goals.
Houllier added:
"I felt we had enough chances to have won today, but they had a goalkeeper in Peter Schmeichel who made four world class saves to keep them in it."
Anelka was on loan at Liverpool for much of last season but Houllier turned down the chance to turn the move into a permanent deal.
"Nicolas Anelka is a quality player and I know he didn't want to leave Liverpool," said City boss Kevin Keegan.

"He wanted to stay but Gerard Houllier had a difficult decision to make and had other options.

"Last summer Nicolas wanted to wait until Liverpool's option on him had expired before he talked to us.

"Now he's come back to Anfield and done what all good goalscorers do, score important goals."