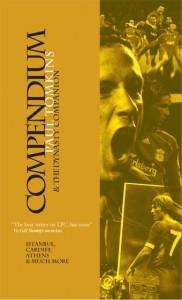 Paul Tomkins new book, Compendium, is due out in November and we have very kindly been donated a copy to give away to the Liverpool fan who can correctly guess Liverpool's points total at the end of 2008.
Paul is a prolific writer on Liverpool FC.  You may read his excellent column on the official Liverpool FC website, or be familiar with his detailed books on Liverpool FC in recent years – most recent of which was Dynasty – a thorough analysis of Liverpool and their managers since the re-birth of Liverpool FC.
Compendium will be able to pre-order directly from Paul's website – and these will be signed copies.  A donation will also be made to the Post Pals charity for each book sold.  Ideal as a Christmas present for a fellow Liverpool fan – you can have their name signed in to the book by Paul.
Compendium – in Paul's words

The book will be a compilation of the best bits of all my previous books – the timeless stuff, like Istanbul, Cardiff and Athens. It will also have bits from Above Us Only Sky, my withdrawal of which from retail sale has left me very short of cash in the last year; but I just couldn't stand by what I'd written about the owners after the mess behind the scenes. There will also be a few new articles in there, too.

Compendium will also have the larger statistical analysis section which I'd painstakingly typeset for Dynasty, but for which there wasn't room within a 256 page book (which is all my budget would allow for) without reducing the font size – something I won't do after complaints about my first book. I was going to put this on my website, but it's a nightmare to reformat. Also, I thought it would be a nice reference piece to have in a book, given it has the full lists of all the players in descending order, based on Relative Transfer Fee, Quality and Value For Money ratings, amongst other things.
You can enter the competition here. Good luck.