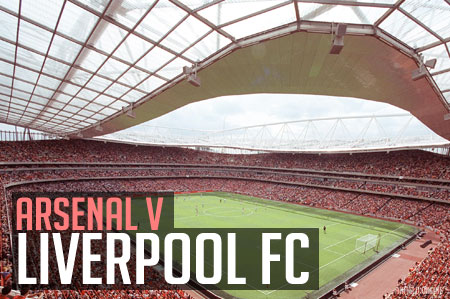 The reds travel to the Emirates Stadium in a continued quest to get their first victory since Arsenal moved there from Highbury.
Liverpool are expected to take a similar strength side who took on Leeds in the previous round.  Alberto Aquilani has been named in the squad so could make his first team debut at some point in the clash.
History
Liverpool and Arsenal have had some terrific encounters down the years in Cup competitions.  Arsene Wenger has a number of exceptionally talented youngsters at his disposal that he regularly bloods in these cup competitions.
In the past decade Liverpool have beaten Arsenal in the FA Cup Final and dispatched the boys from North London in the Champions League Quarter Final two seasons ago last season.
Arsenal however have a Charity Shield victory, an FA Cup 4th round victory and their 'mini-double' over the reds in January 2007 when they knocked us out the FA Cup 3-1 and the League Cup 6-3 in the space of 3 days.
Injuries and Suspensions
Liverpool have Fernando Torres, Steven Gerrard, Albert Riera and Martin Kelly all on the sidelines.  Though Torres played against United he was only 80% fit, and is therefore likely to be wrapped in cotton wool as Liverpool keep their eyes on the Premiership fixture at the weekend.
Form
Liverpool suffered 4 straight defeats up until defeating Man United at the weekend.  Arsenal have been in sparkling form this season but themselves dropped two points in the Premier League at the weekend.
Teams
Liverpool –(from) Reina, Johnson, Carragher, Agger, Skrtel, Insua, Lucas, Kuyt, Cavalieri, Aurelio, Dossena, Mascherano, Benayoun, Plessis, Voronin, Babel, Spearing, Aquilani, Kyrgiakos, Degen
The major team news is Aquilani's involvement in the squad, and he is a possible to take his place on the bench.
Possible starting XI – Cavalieri, Degen, Dossena, Agger, Skrtel, Lucas, Spearing, Ngog, Benayoun, Kuyt, Babel
Arsenal – Both Silvestre and Senderos are likely to play in central defence giving them a strong experienced spine to their side. Samir Nasri is also pencilled in to make his first start for Arsenal this year and Fabianski is also expected to return in goal.
Prediction
We all know the Arsenal kids have talent and the home crowd will provide them with plenty of incentive.  Meanwhile Liverpool's team is likely to involve quite a few of the players at Anfield who just haven't cut it in the first team.  Liverpool haven't won at the Emirates yesterday and we think that this one could go to extra time.
Arsenal 1-1 Liverpool (Pens?)