Thursday 24th July 2003
LIVERPOOL PUSHING FOR 'BARGAIN' STADIUM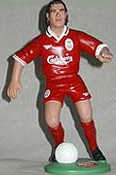 Liverpool could move to a new stadium for around £80 million - which is £10 million less than Premiership rivals Arsenal have already spent without getting anywhere. The plan is to move less than 100 yards from Anfield to what is now a car park at Stanley Park and Liverpool are now going through a "beauty parade" - City of London jargon for getting bankers and financial institutions to make presentations on how to raise money.
The club could raise the £80 million through bank loans and securitisation - pledging season ticket and other ticket sales over several years in the way other clubs such as Newcastle, Leeds and Everton have done. The new stadium will seat 60,000 - an increase of 15,000 on Anfield's capacity - putting Liverpool within striking distance of Manchester United, who pack in more than 67,000 for every match.
Like all clubs living in the shadow of Old Trafford, Liverpool know that in terms of income through the turnstiles United make at least £1 million per match more than their rivals. While it will take some time for the £80 million loan to be paid off, once this done the £15 million a year extra generated by the new stadium will help them to keep pace with United. The plan is to move by the start of the 2006-2007 season.
Liverpool have been helped by a council on whom they have many supporters, and also by the attractive way they have presented their plans, with Anfield being converted into a centre of excellence. The move will put Liverpool further ahead of Everton, who have abandoned their new stadium plans. Although around 25 per cent of Liverpool and Everton supporters would not mind ground-sharing - with the vast majority opposed - Everton are destined to remain at Goodison.
Telegraph