Monday 28 th June 2004
GERRARD TO STAY AT ANFIELD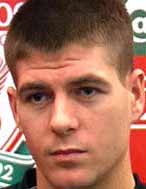 Steven Gerrard decided on Sunday afternoon that he would stay with Liverpool FC and honour the five year contract he only recently signed.
He admitted to being very confused over the past four weeks, with his head telling him to go to Chelsea.
Midfielder Gerrard said: "The last three or four weeks have been really confusing for me. I haven't been really happy with the progression of the club over the last two years and I have made that aware to the media.
"And for the first time in my career I have really thought about the possibility of moving on to a different club.
"But after coming home from Euro 2004 I sat down with my family. I also asked Rick (Parry) for a fourth meeting in two months. Having spent a lot of time with my agent and my close family I have decided that I am staying on at Liverpool Football Club.
"I am 100 percent committed to the club. I have gone with a decision that has been in my heart and that decision is to stay at Liverpool.
"I love the club, I love the supporters and that's what it boiled down to at the end of the day."
We at Anfield Online welcome this as the player is Liverpool through and through, however his actions have hardly been those expected of a Liverpool captain, and we suggest that Rafael Benitez impose his stamp on the team by removing the captaincy from Gerrard. This may provide even further motivation for the Huyton born midfielder.
Anfield Online
---