Monday 24th May 2004
HOULLIER LEAVES ANFIELD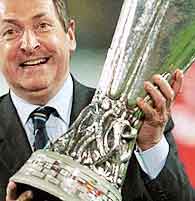 Gerard Houllier today left Anfield after 6 years in charge. At a civilised press conference held at Anfield, Rick Parry announced that the club and former manager Gerard Houllier had come to an agreement that Houllier would leave the reds as boss.
The following is a report on the press conference from BBC Sport:
Former Liverpool boss Gerard Houllier has revealed the excessive pressure surrounding both himself and the club in recent weeks was behind his exit.
Liverpool qualified for the Champions League but the club have been searching for funds to boost their title hopes.
Houllier said: "The reason why we have come to this decision is the sudden excessive pressure on the board and me.
"I thought it would be harmful for the players for the next season and it could jeopardise their performance."
Houllier added: "I have always said the club comes first. I'm not here for myself, I'm just here for the club. The club always comes first for me.
"Liverpool meant six years of happiness of me. The team and I have had a great relationship.
"The club has considerably improved on and off the field. It must keep on developing."
But Houllier also issued a veiled warning to the Liverpool board to choose carefully any potential future investors.
Thai Prime Minister Thaksin Shinawatra has emerged as the sole bidder for Liverpool after Steve Morgan withdrew from the running on Friday.
"It is important for the club to find a balance in a world driven by economic and financial needs. It needs to consider its roots - it cannot always have a quick fix."
The Frenchman was keen to stress his leaving had nothing to do with his health - during his tenure as Liverpool manager he underwent life-saving heart surgery.
"As far as I'm concerned I'm in good shape. I still love my football. I'm not retiring and my leaving is in no way health related."
Parry paid tribute to Houllier for his work as manager over the last six years.
"Gerard changed things off the pitch too, bringing back both our pride and self-respect and instilling discipline and professionalism throughout the club," said the Liverpool chief executive.
"Whatever has happened Gerard will always be a friend of the club and welcome at Anfield.
"Now we start the search for a new manager - Monday is the end of a chapter and Tuesday the start of another."
Sources tonight suggest that Liverpool's top target is Jose Mourinho, the Porto coach, but Chelsea have apparently warned the reds off.
Anfield Online
---