Tuesday 25th May 2004
OWEN: I DIDN'T LET HIM DOWN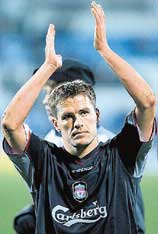 As the dust settles, the players have begun to speak out over the Gerard Houllier era, and Michael Owen speaks out about who he believes didn't let Houllier down, and casts a shadow over those names he fails to mention.
"I'm sad for the manager really," said Owen. "I worked with him for six years. It is always strange when a manager loses his job.

"Everything in my career bar the World Cup in France has been under his supervision and I have a lot of fond memories with him at the helm.

"But life goes on. I'm sure the board will do the right thing for the club. Everyone did their best. I don't think all the players have let him down. When you look at the team I don't think you could say Steven Gerrard and Jamie Carragher let him down and I don't think you could say I let him down in the six years I played for him."
"I don't really want to say whether it is right or wrong but you always get that sad feeling, that sick feeling in your stomach when you see someone you know going through a bad experience," Owen told reporters at England's Euro 2004 training camp on Tuesday.
"I have seen (former England manager) Glenn Hoddle get sacked, having to go up on the telly, and the same with (Kevin) Keegan, you get a sick feeling but life goes on."
"He (Houllier) joined Liverpool after the 1998 World Cup so most of my career has been under him," the striker said. "He's seen me grow as a player, he's worked on different things and I would like to think I am a better all-round player as a result."
"He tried to go more offensive in the last year and was quoted himself as saying we would be more aggressive," Owen said.
"Some of the teams he started were very attack minded, a lot of games this year with a back four and only Didi Hamann sitting in midfield. Some occasions it worked, some it didn't."
"The manager had nothing to do with my contract situation," Owen said. "I am not sure when my future will be sorted. We have met on two occasions so far and there are more in the pipeline but these things take a while these days.
"I won't do a Bosman, I wouldn't do that to the club," Owen added. "I am not trying to strangle every last penny out of everyone.
"I just want to be playing in a top team. We got to second in the league a few years ago. It obviously needs improvement because we are fourth and 30 points behind Arsenal. It's a massive gap.
"The chairman is saying it may take a while to appoint a new manager so I will just sit tight. I can't put a percentage chance on me signing a new contract."

Anfield Online
---