Tuesday 25th May 2004
RUSH: CISSE WOULD HAVE SAVED HOULLIER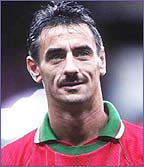 GERARD HOULLIER will make an instant return to football.
He loves the game too much and is too highly rated to stay out for long. The offers will flood in.
Obviously I have good reason to be disappointed he's left the club.
Houllier brought me back to Liverpool on a part-time basis, and even last week he invited me to Melwood for a chat about my future as a coach.
At the time he was still hopeful of staying at the club, but clearly things moved on over the weekend.
Even when all the speculation was surrounding him, he found the time to offer me advice about my next move in football.
I owe him a lot because he took interest in my coaching career from day one.
I met him because I was introduced by Phil Thompson and Sammy Lee, and Gerard also wanted to meet me because having read my ECHO columns, he said he thought we shared many thoughts on the game.
When I was undertaking my UEFA badge at Wrexham, he would often call and ask if I needed some help, which I obviously took.
Then about a year before I returned to Liverpool, he told me he was thinking of bringing me back as a striking coach. It was a promise he kept and I'll always be grateful to him for that.
He's helped me continue my progress.
I keep on getting asked if I'll still be at Liverpool next season now Gerard's left.
My only answer to that is I really hope so, but in football you can never predict what's around the corner.
I'd like to think the next manager would consider me useful. At the moment I coach the strikers on a part-time basis and it's a role I enjoy.
But it's inevitable the new man will have his own ideas and we all have to respect that.
In years to come, I'm sure Houllier's legacy will be thought of fondly.
One of the reasons he was so desperate to carry on is his certainty Djibril Cisse will have a huge impact on the Premiership next season.

Liverpool Echo
---