Wednesday 3rd August 2005
ANFIELD ONLINE NEWS
CISSE WANTS TITLE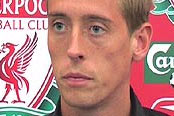 Djibril Cisse, fresh from his third goal in three consecutive Champions League matches, has been speaking about the season ahead.
"We have got to be a top three team and with all the talent we've got here, with the potential we have at this club, that should be perfectly possible.

"Yes, Liverpool could be champions. We can bridge the gap.

"I know we finished a long way behind the top teams last season but think of it this way, which teams have the potential to do better next time around?

"For the teams above us, it will be hard for them to do much better, whereas we know that there's a lot more to come.

"Don't forget last season was the first time that players like myself, Luis Garcia, Fernando Morientes and Milan Baros played in the same team.

"There's so much room for improvement because there's so much potential. There are great things to come, I'm sure of that."
News report filed by The Editor