Sunday 9th April 2006
ANFIELD ONLINE LFC NEWS
LEE RECALLS ANFIELD EXIT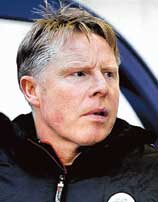 Sammy Lee, Bolton's assistant coach, has been speaking of how he had to leave Anfield when Gerard Houllier was axed and how the sacking took him by surprise.
Lee was one of the Frenchman's coaching staff when he was axed to make way for Rafael Benitez two years ago.
But even with the crisis worsening at Anfield in the final days of Houllier's reign, Lee was still shocked by the exit of the man who took Lyon to the Champions League quarter-finals this season.
Lee, now right-hand man to Bolton boss Sam Allardyce, will get a rousing reception from the Kop when the north-west clubs clash in a vital Premiership game.
And Lee still recalls those dark days when he opted to turn his back on the club as Benitez's regime took shape.
He said: "I had been invited to stay and I fully appreciated that. What I also appreciated though was that Rafa had to bring his own staff in.
"This was perfectly understandable. I've got nothing but the utmost respect for Rafael Benitez and the club.
"But having been a major part of what Gerard Houllier was trying to implement and achieve, during the bad times and the good, I just felt that it was best I also went, just as he and Phil Thompson had gone.
"To have stayed after they'd left, maybe I'd have lost some credibility.
"It was a massively difficult decision. All my family and friends are from Liverpool and I'd been there such a long time. I absolutely loved the place but I had to do what I had to.
"I had a couple of options on the table and I chose to work with the Football Association for two reasons. One because it is a great association and two, I thought it would be wrong of me to stay in club football after being invited to stay at Anfield.
"It was a tremendous wrench but I'd been through it before as a player."
Lee admits to shedding tears when he finally walked out of Anfield for the last time, and reveals his shock at Houllier's departure.
He said: "I hadn't expected Gerard to leave in the first place. I'm sure there must have been a number of candidates on Liverpool's wanted list to succeed Gerard but to be honest I didn't give it much thought at the time.
"It was massively frustrating and disappointing, for everyone concerned. Equally so, I imagine, for Gerard, Phil, myself, all the staff, all the players and all the fans.
"First and foremost, I'm a fan myself and I think we all thought, somewhere in the back of our minds, that this was it and we were nearly there (as championship contenders)."
Speaking in an interview on Liverpool's website, Lee added: "People know what my feelings are towards Liverpool, even the people here at Bolton. I think it was Gerard Houllier who said 'you can take me away from Liverpool but you can't take Liverpool away from me'. And that's the way it is.
"Liverpool has been such a big part of me as a man and boy. That's not going to change overnight and I hope it never will."
Lee added: "I was away in Portugal with England when Gerard's reign as manager came to an end and, of course, various other changes took place also around this time. I couldn't tell you the exact time when I realised I would be leaving to be honest.
"It was all a bit of a blur at that stage and my mind was muddled up. It was a very difficult time for me but I realised, whenever it was, that I had to make a decision one way or the other. And I felt that decision was the right one for me and for the club.
"I really appreciated the efforts Rafa, his staff and the club in general went to in a bid to keep me at the club. I always have done and always will do. But knowing they wanted me to stay only made my ultimate decision more difficult."
Lee admires Liverpool's current position, adding: "You only have to look at how well they've progressed in the Premiership. There was a lot of criticism labelled at them last season about their form domestically and also, to a certain extent, during the earlier part of this season.
"But it's clear for all to see that there's been a massive improvement in that. I think they are a very, very strong outfit; I just hope they're not so strong on Sunday."

Discuss this news item with other fans in our forum
Anfield Online