Tuesday 11th April 2006
ANFIELD ONLINE LFC NEWS
86 CUP FINAL RE-RUN IN FUNDING BOOST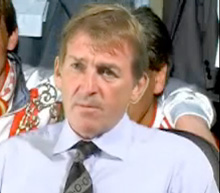 The re-run of the 1986 FA Cup Final between Liverpool and Everton has received some extra funding for the Charity game.
Liverpool's Capital of Culture chiefs have signed a major sponsorship deal to add their name to a restaging of the most famous derby match in Merseyside history.
The Liverpool Culture company has negotiated a £35,000 agreement which will see Everton and Liverpool legends run out in kits bearing the '08 logo.
The teams, who met at Wembley in the first all Merseyside FA Cup final of 1986, will face each other again at Anfield on Bank Holiday Monday, May 1 (2.30pm kick-off).
The historic reunion match has been organised by former Liverpool player and manager Kenny Dalglish, with all proceeds going to his wife Marina's breast cancer charity.
He is bringing together a host of legendary names from Goodison and Anfield for a match which is already attracting worldwide interest and is expected to be a sell-out.
Tickets are available from both clubs, priced £15 for adults and £5 for children (under 16).
Said Dalglish: "It's great the Capital of Culture people have agreed to sponsor the match.
"They are sponsoring two teams from the most successful decade in Merseyside sporting history."
Professor Drummond Bone, chairman of Liverpool Culture Company, said: "The '86 cup final is one of the most important and memorable sporting occasions Merseyside has ever witnessed.
"What happened off the pitch was just as enthralling. The fans' behaviour that day was one of the most evocative displays of the passion and friendliness for which the city is world famous.
"This reunion is a great opportunity to celebrate how football has shaped the city's cultural identity and psyche.
"Football and the players have given us great joy and comfort over the decades and it is fitting that the proceeds of this match aim to do the same for countless families.
"It is also a fitting testament to the 2006 themed year - Liverpool Performs.
"I'm delighted to say that as a result of our European Capital of Culture Sports Strategy, the city is not just excelling at football.
"We will be hosting the world's best in many sports in the run-up to 2008 from squash, tennis and golf to boxing, cycling and rugby.
"And with the city council we are ploughing millions into nurturing a new generation of champions - as we saw recently at the Commonwealth Games."

Discuss this news item with other fans in our forum
Liverpool Echo