Wednesday 19th April 2006
ANFIELD ONLINE LFC NEWS
MADRID CONFIRM THEY WANT STEVIE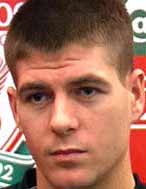 Real Madrid have confirmed that Steven Gerrard is a top priority to buy.
Real Madrid's footballing director Benito Floro has confirmed that Liverpool captain Steven Gerrard is on their list of transfer targets.
Gerrard, 25, signed a new four-year contract last summer to end speculation linking him with a move to Chelsea.
Real have targeted England midfielder Gerrard and Inter Milan striker Adriano as "priority" signings.
Floro told Spanish radio station Cadena Star: "Gerrard is a player on the list that we wanted to sign previously."
Real are keen to add fresh blood to an ageing squad after enduring a third successive season without a trophy.
Floro added: "I've recommended as priority signings a powerful central striker like Adriano and a top midfielder in case Zinedine Zidane leaves."
France World Cup winner Zidane has a one-year option after this season and will make a decision on a return to the Bernabeu after this summer's World Cup.
Gerrard looked set to join Chelsea last summer but changed his mind at the last moment to sign his new deal at Liverpool.
There has been no suggestion Gerrard is keen to leave Anfield, although a move to Real would enable him to link up with England captain David Beckham and defender Jonathan Woodgate.
Liverpool boss Benitez, previously the coach at Valencia, had been mentioned by Real as a possible contender to take over from current boss Juan Roman Lopez Caro.
Personally I hope we never do business with Madrid again following the Owen saga, but they can have him - for £160 million. That's how much the new stadium will cost isn't it. ;-)

Discuss this news item with other fans in our forum
BBC