Thursday 19th January 2006
ANFIELD ONLINE LFC NEWS
CARRA BIGS UP THE CAPTAIN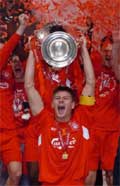 Jamie Carragher today contributed to Steven Gerrard week by hailing his good friend as the best player in the world.
Carragher claims his Liverpool team-mate is better than both Ronaldinho and Frank Lampard and revealed he wouldn't swap him for anyone.

"I know people will think I'm biased," says Carra. "Jose Mourinho will always say Frank Lampard is the best, and Frank Rijkaard will say it's Ronaldinho.

"They're fantastic players, but as far as I'm concerned, Steven Gerrard is the best player in the world today. I wouldn't swap him for anyone, even Ronaldinho.

"I've a lot of interest in all the top leagues and I've seen enough of all the top players. I don't see anyone with the all-round game he's got.

"With most players you can list strengths and weaknesses. With Stevie, there are no weaknesses. If I was picking a world XI, he'd be the first name on the list.

"The difference between him and the others is he's world class in so many positions.

"He's the best central midfielder in the Premiership, but he's also the best right midfielder, too. If he was playing the holding role every week, he'd do that just as well as Makelele, who everyone sees as the best around.

"Lampard has been fantastic for the last two or three years, but Stevie has been like that since he came into our side six years ago. He's gone up another level this season."

Official LFC