Monday 30th January 2006
ANFIELD ONLINE LFC NEWS
FOWLER UNVEILED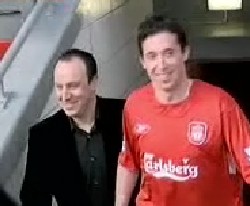 Rafa has paraded his new striker, Robbie Fowler, at Anfield today in a press conference. Robbie was clearly delighted in the press conference.
"I feel like a kid waking up on Christmas morning every day now," said Fowler, who has an initial six-month deal with the Reds.
"It is something I wanted to happen for a long time and I'm glad it came about. If you pray enough for things I'm proof they can happen."
Robbie also spoke with how pleased the rest of the players are at the draw for the Fifth Round of the FA Cup. Fowler is cup tied for the fixture but believes the rest of the squad are more than capable of ending the reds miserable 85 year losing streak against United in the cup.
Rick Parry also was pleased with the return of Robbie: 'We are delighted to welcome Robbie back. It is a football decision not a sentimental one.
"Rafa thinks he can contribute to the team and Robbie thinks he can contribute.
"I have never seen a player so excited to sign a contract. In fact, I have never seen anyone so excited full stop."
Official LFC