I was fairly despondent walking away from Anfield after Monday night's defeat to Aston Villa.  On reflection a 3-1 reverse flattered Aston Villa but if you don't defend set-pieces properly, lack that clinical finish in front of goal (because we certainly had plenty of chances) and give away rash penalties then a defeat is always likely.
After some intelligent analysis over a post match pint I arrived home to the roaring hysteria of the internet masses.
A topic on our forum never likely to move from the first page is that of Lucas Leiva – widely vilified by the LFC masses as some kind of spawn of Satan.  In the demolition of Stoke a few days earlier him and Glen Johnson had rightly been mentioned as our best players but that was out of the window now.
In the past 48 hours some people have ridiculously spouted comments such as:
"Rafa has to go"
And
"The Season's over"
As a glass-half full man it gets tiresome reading this nonsense.  One of the best responses I've read on our forum was from Bleed_Red:
"I swear, most of the people on this forum would leave a perfectly good day at the beach because they see one cloud in the sky."
Going back to the Villa defeat it was hardly a shockingly bad performance. Result, maybe – but not performance.  I can remember one decent chance for Villa created from open play whereas we had a bagful of chances – in fact arguably more chances than in our 5-0 demolition of them 6 months ago.
Liverpool's chances against Aston Villa (24)

Aston Villa's chances against Liverpool (9)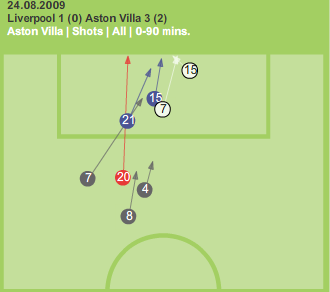 Liverpool lost against Villa because we were undone by a couple of set-pieces and primarily because we didn't take our chances.
In last season's 5-0 victory Alonso and Mascherano had very similar games to Lucas and Mascherano this time around. The only difference being that it appears that Mascherano appears to have taken up the Alonso role in terms of distribution – with Leiva performing an 'enforcing' role similar to what Mascherano did last season.  Liverpool were not overrun in midfield on Monday night and Leiva and Mascherano bossed the midfield.  Aston Villa managed one shot from open play in 90 minutes.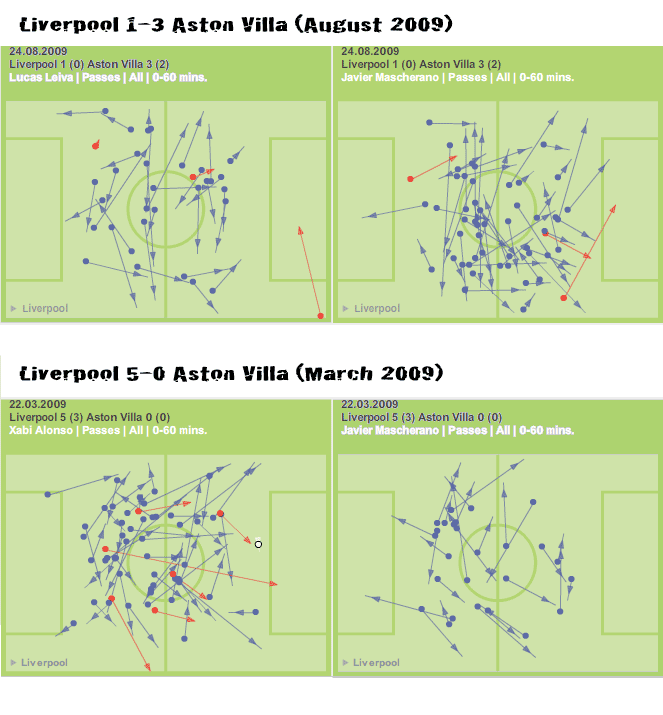 Either way, some people will still look solely at the result and fail to see the bigger picture. Yes we may have lost 2 games already but Liverpool lost 2 all last season and didn't win the league. Titles are not awarded for losing the least games.
We failed to land the title last year because we didn't win 13 of our matches. The 11 draws killed our chances.  If Liverpool can win 28 games this season then they can get hammered 10-0 in 10 league games and probably still have enough points to be in with a shout of landing number 19.
Knees, well and truly, straightened.