After the end of his second season in charge of Liverpool, Rafa Benitez had won a European Cup, a European Super Cup and an FA Cup. Three trophies in an exciting opening two seasons.
Benitez arrived in the knowledge that the reds had a Champions League campaign ahead. Back in those (not so distant) days qualification for the Champions League was no guarantee of managerial safety. In our most recent 4 seasons it has increasingly become the holy grail.
Brendan Rodgers, with 7 games left, stands in a position Benitez enjoyed in two of his five seasons in charge - the possibility of a record breaking Premier League campaign.
Liverpool's 86 points in 2009 and 82 points in 2006 remain Liverpool's highest points totals since 1988; a season that had 40 games.
In fact Liverpool's last title win, in 1990, only required 79 points to win number 18.
What happens next in the 10 and a half hours of football left remains to be seen. If Rodgers can break the Benitez record of 86 points then it's hard to see how Liverpool wouldn't win the league.
League similarities
Despite the differences in their tactical approaches, football experiences and familiarity with the Premier League - both Rodgers and Benitez had very similar experiences in their first two seasons.
Total League Points won by Benitez and Rodgers in their first two seasons
* 7 games remaining of Rodgers' second season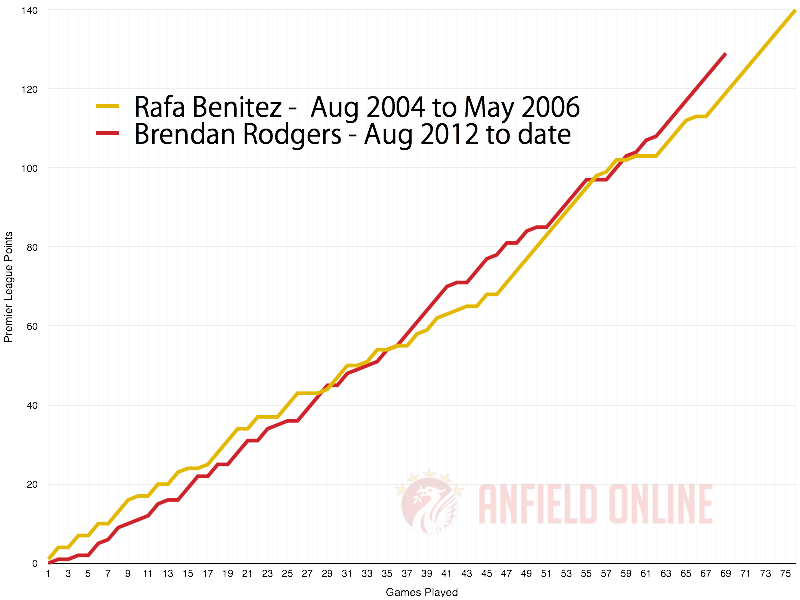 The 'difficult' first season
League Position over the courses of the 2004/05 and 2012/13 seasons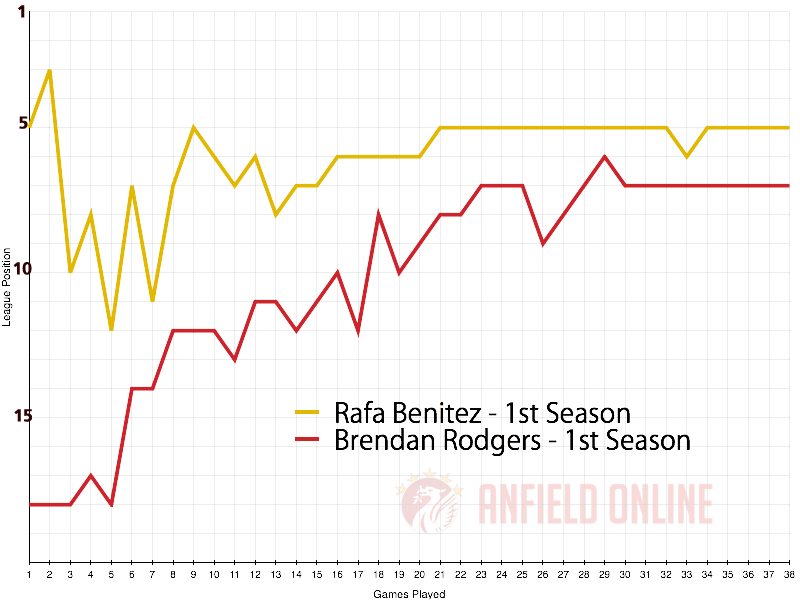 The managers had mixed experiences in their first seasons - but both struggled in the league.  Whilst Rodgers had spent time managing in the Premier League and at Chelsea, settling into one of European football's hot-seats was tricky.  He had a difficult TV series thrust upon him by the club's owners.  Further debacle reigned supreme when he was left with just one senior striker on transfer deadline day.
His faith in new signing Joe Allen and Fabio Borini did not bring immediate dividends and his desire to change Liverpool's football style too quick resulted in anaemic dull games.
After 11 games of his tenure, Rodgers had won twice.
Ironically, quick exits from both domestic cups and an injury to Joe Allen forced a change from the manager and by the half way point there was some optimism amongst the fans that there would be no repeat of a short-term Hodgson.
The arrival of Daniel Sturridge and Coutinho gave a new air of excitement to Luis Suarez and all three quickly established a rapport, before the season ended with Luis Suarez sinking his teeth into Ivanovic of Chelsea.
Benitez in 2004/05 also endured a rocky start.  The key difference between the two was that Benitez picked up very few draws.  It was win at bust for most of the season for Liverpool - ironically a better tactic for collecting points than a large number of draws.
By the time Christmas approached the reds were looking a lot better but by then focus had switched on to other matters.  The reds would eventually go on to win a record 5th European Cup in Istanbul - league form took a tumble as Liverpool's squad strength was exposed.
The 'improving' second season
League Position over the course of the 2005/06 and 2013/14 seasons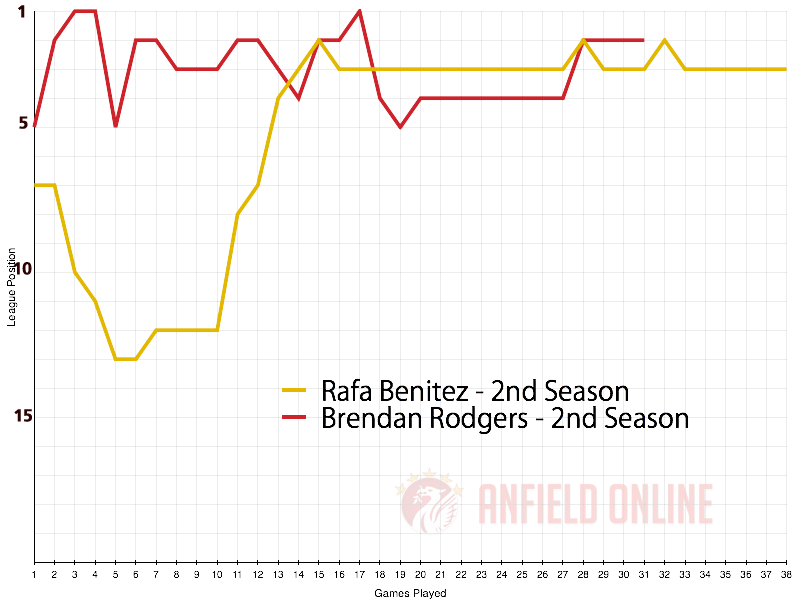 Things for both managers improved significantly in their second seasons.
Under Benitez in 2005/06 Liverpool were slightly hamstrung by being forced into 6 Champions League qualifiers across a long summer (before UEFA changed the rules to allow winners automatic qualification).
Despite a slow start, the reds held pretty much a consistent third place after a third of the season, with brief forays into second.  With 9 games to go that season Liverpool were 3rd.  The reds then went on to win all of their 9 final games and still ended up... 3rd.
We finished 9 points behind Chelsea who won the league with a massive 91 points, and 1 point behind United who edged us to 2nd.  But we were a comfortable 15 points clear of Arsenal in 4th place.
The reds had narrowed the gap to Chelsea from 17 points to 9 in those last 9 games, and the gap to United was cut from 8 to 1, but sadly the reds left their surge just a little bit too late.
Brendan Rodgers in 2013-14 has enjoyed a better start than Benitez managed in 2006, even landing the Christmas number one spot - before two consecutive defeats, significantly away to the clear title rivals, put Liverpool and Everton back in direct contention for a 4th placed fight-out.
But since the New Year, the reds enjoyed morale boosting victories at home over both Arsenal and Everton - results that not only earned the reds points but severely dented the form of those two clubs - the two clubs hoping to finish above Liverpool.
More good wins have followed, victories away at both United and Southampton, last minute wins at Fulham, and important victories over teams doggedly fighting relegation.
Back at the end of March 2006, Rafa Benitez looked at the league table with 7 games to go. Chelsea were top and Manchester United had two games in hand.
Fast forward to today and Brendan Rodgers also sees Chelsea top, but this time Manchester City are the side with the games in hand.
There are differences.
Chelsea were 17 points ahead of Liverpool.  Today they are just one.
Manchester United were to go 8 points ahead when they won their games in hand.  This season Man City can go 4 points ahead if they win their two games in hand.
Back in 2006, LFC could not control the results of their opponents.  This season both Man City and Chelsea have to travel to Anfield.
Although Liverpool remain third favourites this is arguably Liverpool's best ever chance to win the League for almost a quarter of a century.
Keep the faith.