All the great Liverpool teams have been blessed with fantastic defenders.  Defenders who are not only there to give our keepers little to do, but to build play from the back and contribute to our attack.

In the next part of our series, several of Anfield Online's contributors have each come up with their own choice for Liverpool's Greatest Ever Defender.
Shortlist: Jamie Carragher | Sami Hyypia | Ron Yeats | Alan Hansen

Jamie Carragher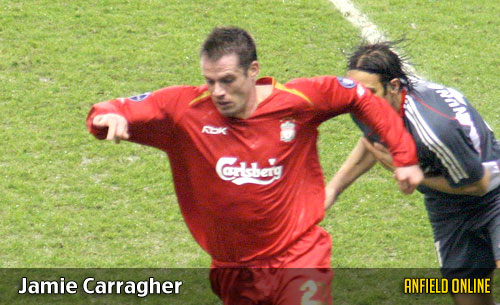 A boyhood Evertonian, Jamie Carragher was to join Liverpool in 1996 and has played his entire career for the Reds. Any doubts about his loyalties were swiftly put to sword, and through his determination and love of the club, he has earned the affectionate nickname of Mr Liverpool. With the famous Kop chant of "We All Dream of a Team of Carraghers", the mutual love between player and fans is clear to see.
Jamie Carragher's Liverpool career began in something of a stop-start manner, as before to break fully into the first team he was played in various defensive positions, filling in gaps where necessary. After forging himself a spot during the 2000/01 season, Carra had the misfortune of struggling with knee injuries and a broken leg which kept him on the sidelines for significant periods.
With the arrival of new manager Rafael Benitez in 2004/05, Carra was switched from the full back positions to central defence, in which he was to create a formidable partnership with Sami Hyypia. The two players complimented one another well, with Carragher's stoic, no-nonsense defending fitting in well alongside the Fin's aerial dominance.
Carra is famous for being a volatile player, who demands the very best of himself and those around him every time he steps onto the field. A fans favourite, he has on innumerable occasions sacrificed himself to save seemingly unstoppable shots. Perhaps his greatest display was in the 2005 Champion's League final in which he was to continue making vital challenges in extremis whilst suffering from terrible cramp pains.
Notably, Carragher was to cut short his International career and devote himself totally to his club. This show of loyalty was to further endear him to fans, and make him the idol of many.
Carragher is currently Liverpool's vice-captain, and his rigorous marshalling of his defence and eye for detail has many fans expecting him to one day take over the manager's position.
Sami Hyypia

Plenty to choose from but one name stands out for me, and not only because of his mop of blonde hair but because of ten years of dedicated service at the highest level Sami Hyypia for me is Liverpool's greatest defender.
Since his arrival in the summer of 99 to his final game against Spurs on the last day of the 08/09 season, the big Finn was an interregnal part of the Liverpool squad. He is one of only two overseas players to play over 450 games for the club, the other being legendary goalkeeper Bruce Grobbelaar. He was a dominant force in both boxes as Liverpool had a water tight defence with Sami and Carra at the back along with Hyypia netting 35 times for the Reds including his debut goal against Man United.
His trophy cabinet is bulging as well. Two League Cups, two FA Cups, one UEFA Cup and of course one European Cup along with a couple of Charity Shield winners medals and two Super Cup victories. He was immense in every single one of the trophies we won during his time especially the 2005 Champions League.
He put in two man of the match performances against Juventus in the 05 quarter finals, including a stunning goal in the first leg and a faultless performance, along side Carragher, in the second.
These weren't unique though to us Liverpool fans, over his ten years of service we'd come to expect these flawless performances from him. On one hand I could count how many bad games he had in a Liverpool shirt and still have fingers to spare.
Sami Hyypia is not only Liverpool's greatest defender, not only Gerard Houllier's greatest signing but he's also the greatest bargain in the club's history. For just two and a half million, it's still unbelievable how good he was.
Ron Yeats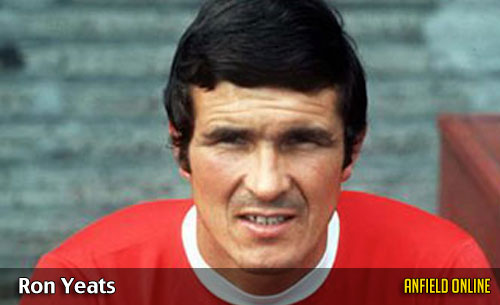 Big Ron Yeats, along with his fellow Scot Ian St. John, was once spoken of by Bill Shankly as 'the start of Liverpool'. Such a tag is something to live up to and Yeats certainly did just that.
The man who grew up in Aberdeen as a butchers son was to become an important figure in Liverpool's history. Making his debut for the reds in August 1961, it wasn't long until the big defender was made captain of Liverpool – and captain he was for the following ten years.
This automatically speaks volumes of how much character, ability and determination the player had, if Bill Shankly was to have so much faith in him to lead the reds on the pitch for such a long time. And quite frankly, a time when Liverpool Football Club was in a period of huge evolution. We needed a leader on the pitch who would be up for the fight, but not only that, and, just as important, we needed a rock in the defence to push us up to the top. He was pretty much a quiet man off the pitch but when he was on it, he gave his all for that red shirt. And because of this, we got the leader and the rock.
'The Colossus' was a beast of a defender. He read the game with such ease and he was so quick for a man of his stature. He was very strong, he was definite in his heading of the ball. He could pass a good ball out of defence. He rarely lost concentration and was a figure of organisation in the familiar back line he led. He also popped up with a goal now and again. But most of all, he was solid and a nightmare to play against.
There's no doubt Yeats was destined to be a Liverpool great. Even though he asked the worst question he could ask Bill Shankly before signing for the reds – 'Where's Liverpool?'. If he didn't know it then. He certainly knows now.
I don't think it's been necessary to point out the in's and out's of what Ron Yeats won at Liverpool. The stats and so forth.
For me, the important thing about Ron Yeats is that he built a brick wall in front of The Kop, that The Kop could rely on. The sort of wall we've come to expect to this day. One that was as strong as an Ox. The foundations were certainly set with Ron Yeats.
Alan Hansen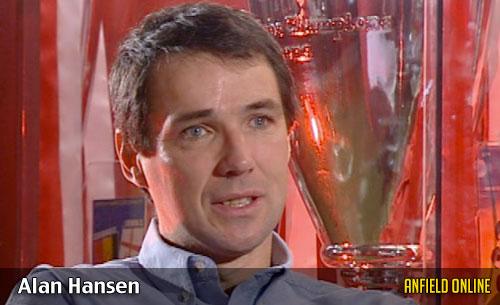 It's hard to believe that Alan Hansen was once deemed not good enough to play for Liverpool. As a 16 year old he attended a trial at Liverpool Football Club after being spotted by some of Bill Shankly's scouting team.  He didn't impress and went back to Scotland with his tail between his legs.
Bob Paisley however corrected that oversight 6 years later when he brought the then 22 year old player to Anfield for £110,000 from Partick Thistle.  Hansen had helped Partick to Scotland's top division that year, and even though he had a mere 35 appearances to his name – he arrived alongside his fellow Scot Kenny Dalglish.
His debut, predictably, ended with a clean sheet for the reds.  Within 3 weeks he had scored his first Liverpool goal – helping Liverpool to a 5-1 win over Dynamo Dresden at Anfield.
Over his 14 year career with Liverpool, Hansen won almost every honour in the game.  8 titles, 3 European Cups, 3 League Cups, 2 FA Cups and 6 Charity Shields.
His cultured, calm style of play was a breath of fresh air.  Hansen could tackle, but more often than not his fantastic reading of the game meant he didn't need to throw himself around the pitch.  He knew where to intercept the ball and there was arguably nobody greater at bringing the ball out from the back line and feeding it through to Liverpool's attacking midfielders.
At the end of the 1980's knee trouble begin to affect the player and eventually injuries got the better of him – he retired shortly after Dalglish left the managerial position at Anfield.
He has now the most prominent ex-Liverpool player in the media – an intelligent football analyst who talks sense on all aspects of the game, and does not resort to the knee-jerking reporting on the reds that so many ex-players resort to.
Those who had the privilege of seeing him play in his 620 Liverpool appearances will be in little doubt that he was Liverpool's greatest ever defender.
What do you think? Who is right? Have we missed the real standout winner? Who is your greatest Liverpool defender?
Vote here and leave your comments below.
[poll id="16″]