ANFIELD ONLINE MATCH REPORT


LIVERPOOL 1-4 CHELSEA
FA BARCLAYS PREMIERSHIP
2 October 2005 (4pm) at Anfield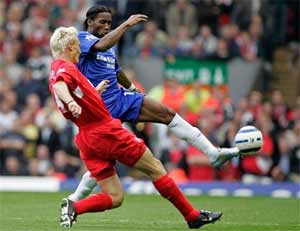 Sami Hyypia struggled all day with Drogba
» Goals
» Match Report
» Teams
» Audio/Video Reaction
» Other Media Reports
Lampard 27 pen
Gerrard 36
Duff 43
Joe Cole 63
Geremi 82
Chelsea demonstrated just why the bookies have already paid out on them retaining their title as they destroyed the European champions to move nine points clear at the top of the Barclays Premiership.
Jose Mourinho's men clinically took Liverpool apart with a display of quality and organisation which must strike dread into Arsenal, Manchester United and anyone else with dreams of catching them.
Forced to come forward after the break to save the match, Liverpool were cut to shreds by outstanding counter-attacking.
Didier Drogba led the line with power and fierce running, while Damien Duff, Joe Cole and Geremi coolly finished off moves after Frank Lampard's early penalty had put Chelsea in control.
Steven Gerrard drove home an equaliser, and toiled manfully to salvage something for the Anfield men.
But after denying Chelsea goals in the previous three clashes between the teams, the true gap between the wealth and ability of the champions was finally underlined.
Rafael Benitez and Mourinho made minor changes to the teams which drew 0-0 in the Champions League in midweek.
The Anfield chief left out Djibril Cisse and included John Arne Riise down the left, with Luis Garcia moved to the right - but the whole tactical plan was aimed at getting Gerrard further forward to support Peter Crouch.
Asier Del Horno returned to take over at left-back, with William Gallas moving to the right and Paulo Ferreira dropping out, while Joe Cole took over from Arjen Robben.
Riise was clearly not only around for his pace, but also his hefty long throws which he launched into Chelsea's box - aiming for Crouch - at every opportunity.
Cole was booked inside nine minutes - he had caught Gerrard late in the first minute and then clattered through into Djimi Traore to earn his yellow.
Chelsea were content to sit deep and let Liverpool come onto them, aiming for the quick breaks.
And it was Drogba who had the first genuine chance of the match when he moved across the box to the left before firing in a low shot which Jose Reina saved.
Drogba was a pivotal figure in action, back to contain Crouch at corners, and then winning the penalty which sent Chelsea ahead.
Traore's tackle on Drogba was a clear offence, and Frank Lampard drilled the 27th-minute spot-kick through Reina's dive - before picking up a booking for his celebrations.
It was a rare defeat from the spot for the Spanish international goalkeeper, whose trademark in his homeland was penalty saves.
For a few minutes, Chelsea dominated midfield possession, but Liverpool gathered themselves and surged back at the champions.
Drogba was hobbling around midfield with an ankle knock when Liverpool won a 36th-minute corner and Mourinho gestured angrily for the striker to get back into the box to do his defensive duties - but within seconds Liverpool were level.
Riise's corner swirled in, Jamie Carragher saw a flicked header go astray, but it fell to one-time Chelsea target Gerrard to smash a right footed drive across Petr Cech and into the far corner.
But less than three minutes from half-time Chelsea were back in front.
Drogba, now clearly recovered, battled his way down the left and shook off Steve Finnan and Sami Hyypia, before laying the ball back for Duff to guide in off the far post.
Drogba could have virtually finished things when a poor Hyypia header left him clear in the box, only to shoot wide from 12 yards.
Jamie Carragher and Drogba were booked after an angry confrontation, with Liverpool taking risks to attack and bring the best out of John Terry, Claude Makelele and Cech.
With Liverpool still committed to attack, Chelsea made it 3-1 in the 63rd minute when Drogba's surging run ended with a pass for Cole to tap in.
Riise fired over from 25 yards and Crouch produced a clever turn and flick over a defender but then blazed his 12-yard shot high into the Kop.
Liverpool took off Hyypia and sent on Florent Sinama-Pongolle in attack, while Chelsea sent on Geremi for Duff.
Cisse replaced Alonso seconds before Drogba helped create Chelsea's fourth goal in the 82nd minute.
Geremi finished off a clinical display of stunning counter-attacking play to leave the majority of Anfield stunned - but the away section jubilant.
Liverpool: Reina, Finnan, Carragher, Hyypia (Sinama Pongolle 71), Traore (Cisse 81), Hamann (Sissoko 68), Luis Garcia, Gerrard, Alonso, Riise, Crouch.
Subs Not Used: Josemi, Carson.
Booked: Carragher.
Chelsea: Cech, Ricardo Carvalho, Terry, Gallas, Del Horno (Huth 83), Makelele, Joe Cole (Robben 67), Lampard, Essien, Duff (Geremi 76), Drogba.
Subs Not Used: Cudicini, Crespo.
Booked: Joe Cole, Lampard, Drogba.
Att: 44,235
Ref: G Poll (Hertfordshire).


Rafael Benitez post match interview

Steven Gerrard post match interview

Jose Mourinho post match interview

Fatboy Frank Lampard post match interview
All audio and video requires Windows Media Player and is from the BBC unless otherwise stated.

none yet
Match Report filed: 3 October 2005