Liverpool face Arsenal in their first game against one of last season's top six in the Premier League.
The reds have 'rested' Simon Mignolet who has played the first 4 competitive games in the season in which he had one clean sheet and conceded 6 goals.
Alexander Arnold makes way for Joe Gomez at right back but remains in the matchday squad.
Meanwhile Andy Robertson is unavailable due to the birth of his child earlier today - Alberto Moreno maintains his position as left back.
Starting XI: Karius, Gomez, Matip, Lovren, Moreno, Henderson, Can, Wijnaldum, Mane, Salah, Firmino. 
Subs: Ward, Klavan, Alexander-Arnold, Grujic, Milner, Solanke, Sturridge.
As it happened...
More on Mignolet
The decision to leave Simon out of the squad was rumoured this morning and was something of a surprise.
But Klopp has added:
"He didn't want to rest, it's not a problem. We spoke yesterday about it and I really thought it made sense, especially because we have the quality in behind.

"It is just because I want to let him have a rest after this really intense time with really good performances for us.

"But with the other boys, we wanted a situation like this; we wanted to have three strong goalkeepers. They've shown up in training, they are really ambitious, they want to have game time, they want to have games, so today Loris is starting."
Arsenal line-up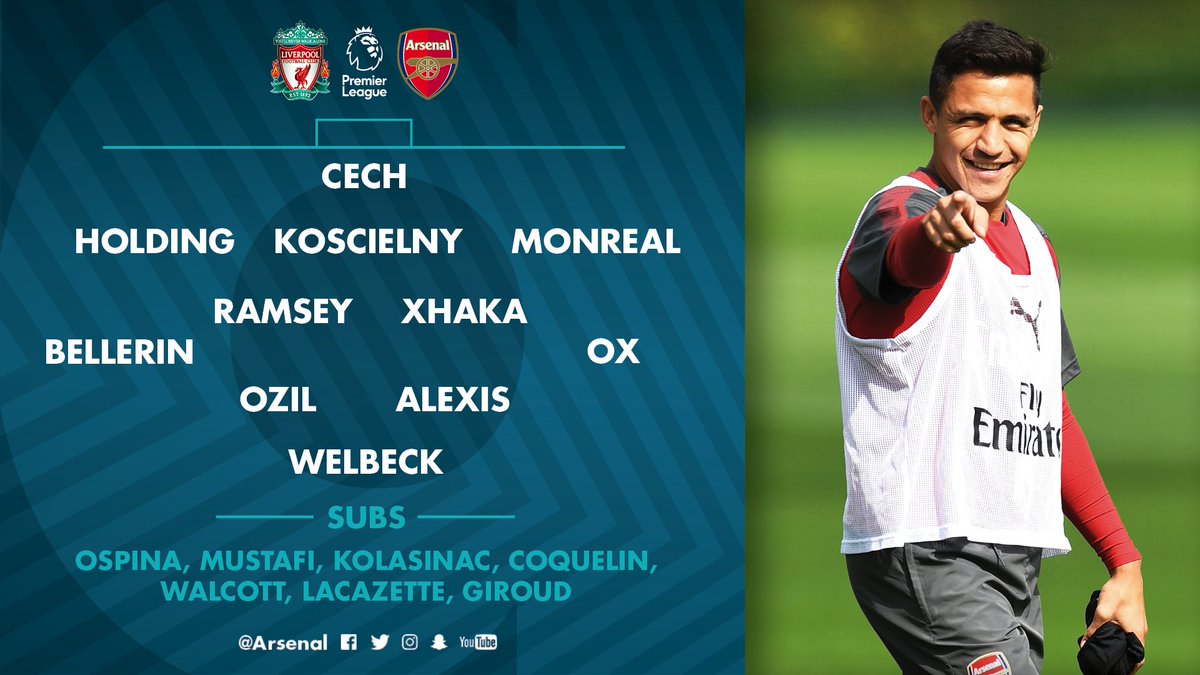 Liverpool and Arsenal were closely matched in the 2016-17 season.
The reds finished just one point ahead of the Gunners, scored 1 goal more and conceded 2 less. A paper thin advantage that saw the reds qualify for the Champions League and Arsenal placed into the Europa League.
That advantage was sealed thanks to Liverpool winning home and away against Arsene Wenger's side.
The North London club will no doubt be fired up to try and serve up some revenge today.
Fans surprised at Mignolet omission
Some supporters seem surprised at Klopp 'resting' Mignolet:
Lee Murphy: Must be tough going after three league games lol. #stressfuljob
Rich Marotta: Who needs a rest three weeks into the season. Something is going on.
Yonathan E: Klopp is mugging fans off. You don't 'rest' your starting goalkeeper for a big game.
5' Chance
Salah dinks a ball over the box, Mane can't make contact but collects the ball.
Finds Moreno who whips in a cross - Emre Can attacks the header but it goes wide.
10' Great chance
Wow - Liverpool on top and Emre Can with a great ball across the face of goal and Salah is in - great reaction by Cech to keep the reds forward out. Could he have done better?
Liverpool pinning Arsenal back.
GOAL! Liverpool 1-0 Arsenal
And it's ROBERTO FIRMINO!
He heads past Cech from a Joe Gomez cross. Well deserved lead to Liverpool.
Plenty of energy from Jordan Henderson who, combining with Firmino, nearly adds a quick second.
Emre Can another player having a fine Liverpool game.
31' Chances aplenty
Mo Salah brings the ball down and he puts it wide - and then Wijanldum sets up Mane for a volley - again wide.
Liverpool 1 up but they will be hoping to add a second before half time.
GOAL! Liverpool 2-0 Arsenal
And it's Sadio Mane
Liverpool deservedly 2 ahead - Sadio cuts inside and fires a right footed shot into the far corner.
'Poetry in motion' rings around Anfield.
It's been an impressive performance.
HT: Liverpool 2-0 Arsenal
A fantastic half of football from Liverpool. Should probably be more than 2-0.
Firmino and Mane with the goals that have put Liverpool ahead. Emre Can and Jordan Henderson dominating the midfield.
Half Time Stats
Liverpool with 54% of possession.
10 shots (4 on target) for the reds. 2 shots (0 on target) for Arsenal.
There were four yellow cards that half - Lovren and Gomez for the reds, Welbeck and Xhaka for the Gunners.
Elsewhere
Spurs are being held at half time at Wembley against Burnley 0-0.
Chelsea won earlier today - beating Everton 2-0 at home.
KICK OFF
Back underway for the second half. Arsenal make a change at half time - Aaron Ramsey off and replaced by Coquelin.
A win for Liverpool this afternoon will put them back inside the top four after 3 games - just before the international break.
From the second half kick off Liverpool go on the offensive again - Salah drawing a save from Petr Cech.
And Mezut Ozil gets Arsenal's third yellow card - a frustrated tackle on Henderson.
53'
Salah with the free kick towards the Kop, Emre Can heads it on, but Dejan Lovren can't get close enough to it as the reds display another well worked set-piece.
55'
Mo Salah is looking for his 3rd goal of the season. He steals possession and powers towards goal. His shot is saved and Henderson can only fire the rebound over.
Liverpool looking more likely to get the next goal here at Anfield.
GOAL! Liverpool 3-0 Arsenal
Ha ha! What did we say!
Mo Salah races clear after winning the ball in his own half - goes the length of the pitch and slots it past Petr Cech.
Wonderful stuff from Liverpool.
"We want Wenger out" sing the Arsenal fans at Anfield.
This has been a wonderfully attacking performance from Liverpool - Coutinho would struggle to dislodge any of our current front three.
62' Arsenal subs
Alexis Sanchez looking thoroughly miserable on the pitch and Arsene Wenger looking it off the pitch.
Sanchez is subbed off and Giroud comes on to replace him.
Oxlade-Chamberlain off - Lacazette on.
Oxlade-Chamberlain, linked with a move away from Arsenal (possibly to LFC) is half-cheered off by the Liverpool fans. He's been poor today. Throws a tracksuit to the ground as he leaves the field.
All is not well at Arsenal.
70'
Last gasp defending again from Arsenal. Sadio Mane's pass towards goal squirms over Petr Cech but Bellerin manages to clear on the goal line.
74' LFC Substitution
He's been excellent again - time for Sadio Mane to make way - and on comes Daniel Sturridge.
Liverpool leading 3-0 against Arsenal and it's all looking very easy for the reds.
That substitution has rearranged LFC's fluid front three - Firmino replaces Mane on the left with Sturridge down the middle.
Chants of 'Olé' now everytime LFC touch the ball - Mane went off to a big standing ovation too.
GOAL! Liverpool 4-0 Arsenal
Wonderful move! He's just come on!
Emre Can powers from midfield, lays the ball out wide to Salah who fires in an inch-perfect cross.
Sturridge is at the back post to smash the header in.
Sublime!
We're not even in the 80th minute at Anfield and Arsenal fans, understandably, are heading for the exits.
80' LFC Substitution
Our opening goalscorer, Roberto Firmino, goes off for a big Jurgen Klopp hug. James Milner on to replace him.
83' LFC Substitution
Time for another standing ovation - Liverpool make their final sub and Emre Can goes off to be replaced by Marko Grujic.
The German midfielder has been magnificent yet again.
Liverpool supporters singing a long, early, You'll Never Walk Alone.
We're into added time here.
FT: Liverpool 4-0 Arsenal
Fantastic performance, result and signal to the rest of the Premier League.
Goals from Firmino, Mane, Salah and sub Daniel Sturridge.
That was enjoyable.