13 points from 9 games isn't amazing - 16 points from 10 would be marginally better and that is what the reds will be hoping for at the full time whistle.
With a catalogue of defensive errors in last week's 4-1 defeat against Spurs only Klopp will know how the players have reacted this week.  Lovren appeared to take it quite badly - removing 'Liverpool' from his social media biography on Instagram.
There isn't much to separate these two teams in terms of league placing.  The reds with one more point prior to kick off but it was Huddersfield who got the great result last week against Mourinho's men.
This is the first meeting at Anfield between the two clubs for a whopping 46 years and 5 days.  Liverpool cannot let them enjoy the day too much.
If you are reading on a mobile you will need to click here to see the live updates
As it happened...
Matchday
We've got a little bit less than 2 hours until kick off at Anfield.
Klopp may be the best mate of Huddersfield boss David Wagner but the reds are in certain need of another Anfield victory. Hudderfield beat Man Utd last week, while the reds lost against Spurs so the 10th placed Yorkshire side will be feeling confident of an upset.
A win for the reds would put them back into a more respectable position in the league.
But they will have to do it without Coutinho who was injured yesterday in training - and it remains to be seen if both Mignolet and Lovren will keep their place in the side. Rumours suggest Mignolet will, but Lovren won't.
And what has Wagner said?
We've heard what Jurgen Klopp has said about his mate - but what about the thoughts of David Wagner?
"It's extraordinary, yes it is, because he's my best friend and he's the manager of Liverpool.

"But I think the real important and extraordinary story is Huddersfield Town meets Liverpool in the Premier League in a competitive game. I think nobody should forget this.

"I don't know for how many years, the last time this football club was able to play at Anfield in a competitive game. This is the big story for us."
Elsewhere..
And it could be a big day in the career of LFC youngster Rhian Brewster too.
He scored a hat-trick in the 3-1 semi-final win for England Under 17's in the FIFA U17 World Cup and the final kicks off in Kolkata just 30 minutes after Liverpool kick off at Anfield.
No words to describe how we all feel right now!! One last big push ahead fully focused on that now #U17WorldCup @England pic.twitter.com/hZKUeR7Z7B

— Rhian Brewster (@RhianBrewster9) October 25, 2017
Confirmed LFC Team
Lovren and Mignolet retain their place in the side. Can dropped and replaced by Wijnaldum. Sturridge in for Coutinho.
Team: Mignolet, Gomez, Matip, Lovren, Moreno, Henderson, Milner, Wijnaldum, Salah, Firmino, Sturridge.
Subs: Karius, Klavan, Robertson, Can, Grujic, Oxlade-Chamberlain, Solanke.
And the Huddersfield side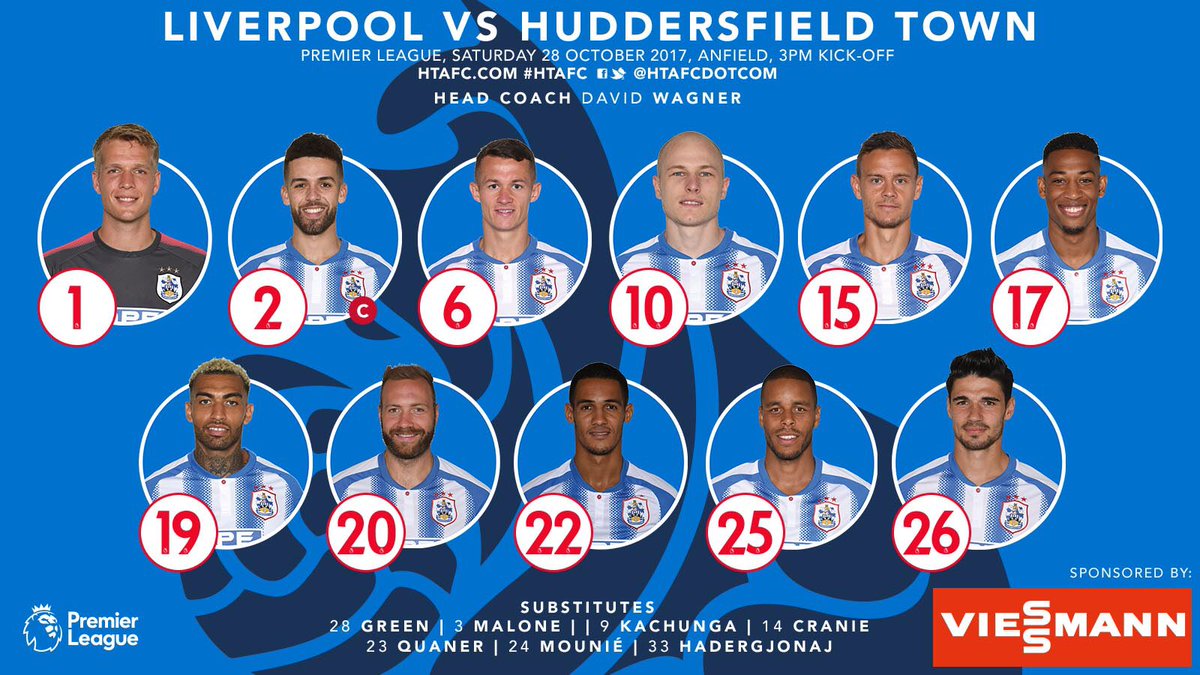 Elsewhere
Man Utd have scored a late goal in a drab encounter between themselves and Spurs at Old Trafford.
If it stays like it is the reds can cut the gap to 3rd place down to 4 points with a win today.
Rhian Brewster is named in the England U17 team for the World Cup final v Spain.
That game kicks off at 3:30pm UK time.
Teams have been read out at Anfield and there was positive applause for both Mignolet and Lovren's name as they were read out.
Kick off just five minutes away.
Will Lovren and Mignolet repay Klopp's faith in them to come good? And Sturridge will be looking to add to his solitary goal this season as he gets another chance under Klopp.
Lovren not playing
Lovren was injured in the LFC warm up - so Klavan starts in his place.
Woodburn promoted to the bench.
KICK OFF
We're underway at Anfield. Chest bump by Matip and Klavan prior to kick off.
Gary Lineker boards the banter bus ahead of kick off.
Lovren was named in Liverpool's starting lineup but now doesn't start. Bit like last week.

— Gary Lineker (@GaryLineker) October 28, 2017
Bit of a strange set up for the front three.
We've got Firmino hugging the right with Salah and Sturridge interchanging in the middle.
Scratch our last update - the front three are all interchanging in these opening moments.
Sturridge is on the right now and Firmino's wide out left!
They'll get their running stats up criss-crossing that pitch.
First danger
It comes from a corner but Liverpool manage to get Huddersfields effort away.
It's been a fairly flat start at Anfield so far. No chances yet for the reds.
Sturridge chance
Cross whipped in from the right hand side, Sturridge is at the edge of the 6 yard box but he gets very minor contact on the ball and he merely directs the ball to bounce over the crossbar.
17' James Milner floats in the corner from the left hand side but there's not much pressure on the Huddersfield keeper who cleanly catches the ball.
Huddersfield holding their own so far.
21' Stumble from Klavan near the touchline and his kick to try and keep the ball in play goes out of play for a Huddersfield throw.
On the plus side Mignolet hasn't had a lot to do so far.
Liverpool with over two-thirds of the possession so far but it's a game low on chances at the moment.
Fan comment on LFC Reds
I've seen this episode before.

Us with most of the ball. Them 11 men behind. We can't break them down or score. They win a set piece. Our keeper flaps at it or our defenders fail to deal with it. They score.
Got to admit - it does have that feel so far.
Salah shot
28' Salah gets a shot away which forces the Huddersfield keeper into a save. He has been the brightest of the bunch for the reds.
Earlier he made a quick turn and fed the ball through to Sturridge, but Daniel looks a million miles off the pace.
Milner also looks to be finding it tough out there - Huddersfield winning a lot of the 50/50s but they just can't retain possession - Liverpool still dominating there.
32' A little bit of excitement. First the reds whip in a decent looking corner - it takes everyone by surprise by it's quality including Liverpool's players who can't attack it.
And then in the next phase of play the ball arrives at Milner's feet - he drills a shot in but it's fairly simple for the keeper to get down low to stop it.
Penalty saved!
Firmino was fouled (shirt pulled) from a corner and then Salah stepped up to take the penalty. (Milner is on the pitch)
But Lossl in the Huddersfield goal saves the penalty - typical.
HALF TIME
Not a great half. Liverpool dominant, but chances few and far between.
But the reds won a penalty just before the break and it was a tame effort by Mo Salah who appears to have been elevated to be Liverpool's penalty taker.
The reds are going to need to improve drastically in the second half.
Despite the missed pen, Salah has been the brightest player. Sturridge hasn't had much impact playing as the reds central forward.
SECOND HALF
We're back underway at Anfield.
GOAL!!!!!!!
49' And it's Daniel Sturridge with the goal!
Moreno clips a ball over - it bounces kindly into the area and Sturridge lifts it over the keeper into the Kop net.
GOAL!!!!
58' And it's 2-0. Roberto Firmino heads in from, wait for it, a Liverpool corner.
So Liverpool have washed away the disappointment of the poor first half, and that saved penalty and have now got themselves into what 'should' be a commanding lead.
Still just under 30 minutes to go though and Huddersfield, obviously, have upped their determination now to try and get something.
Should present Liverpool with more opportunities to get behind them.
63' And straight away it's a chance for Salah. Firmino feeds him the ball - Salah turns with two defenders marking him and his shot is tipped wide.
Liverpool substitution
66' Klopp makes the change and Roberto Firmino comes off and is replaced by Oxlade-Chamberlain.
An eye possibly on the midweek Champions League game at Anfield.
Should have been three
67' And from another corner as well. Matip the man who gets a good header on it but puts it wide of the goal.
Double sub for Huddersfield
69 mins
Throw of the dice now from Huddersfield. Tommy Smith and Danny Williams head off.
On comes Steve Mounie and Florent Hadergjonaj
GOAL!!!!
75' It has to be all over now right? Georginio Wijnaldum smashes one in to the roof of the net to make it Liverpool 3-0 Huddersfield Town.
LFC Sub
Just prior to that Liverpool goal Emre Can came on for Daniel Sturridge who started this afternoon's scoring despite an average first half performance.
85' Looks like Huddersfield have given up and Liverpool ending this game looking athletic and full of running. You can see Oxlade-Chamberlain is looking to get himself something out of this game but it hasn't come off yet for him.
Into the 3rd minute of added time.
Liverpool about to move on to 16 points.
FULL TIME
It's all over and the reds have a convincing 3 points in the end against Huddersfield.
The unbeaten home run continues.
Liverpool 3-0 Huddersfield Town
Thanks for joining us
The reds are now 6th in the Premier League, and back to 4 points behind 3rd placed Tottenham Hotspur.
After the Champions League clash Liverpool's next game is back in London - with a trip to West Ham at the Olympic stadium on offer.