Liverpool have utilised 18 players in the starting line up in the past week, not played particularly well, but landed themselves six points.
A late winner against Everton last Sunday was followed up with a comeback victory away at Burnley.
The reds are away again, this time all the way down on the South Coast, as they face the weekend's early kick off against Bournemouth.
After this the reds return to Anfield for a crucial Champions League clash against Napoli before Man Utd travel to Anfield next weekend.
Joe Gomez was a casualty in mid-week after breaking his leg, whilst Dejan Lovren is still unable to return due to concussion suffered in training.  Andy Robertson however should return, and Sadio Mane has a good chance of playing.  He cut his foot during last week's derby.
Bournemouth, with Everton and Man Utd, have 23 points and are vying for 6th place.  They were narrowly beaten 2-1 at home by both Arsenal and Man Utd, but held Everton to a 2-2 draw here.  They have won 4 of their other 5 home games this season and will be a far tougher test than the reds had mid-week.
Victory for Liverpool would take them, temporarily at least, back to the top of the Premier League.  Victory for Bournemouth would mean they narrow the gap to the top four down to five points.
Follow the game with us below.
As it happened...
Recent record
This is Bournemouth's 4th consecutive Premier League season and the 7th meeting between the clubs in the competition.
Liverpool won both games last season, including a comprehensive 4-0 win on Bournemouth soil.
However, in 2016/17 the reds were beaten 4-3 here, and then drew the home game 2-2.
Landmarks?
James Milner scored the crucial equaliser against Burnley in midweek and if he is involved today will make his 500th Premier League appearance.
He would become the 13th player to reach this landmark. He would become the second youngest to do so, aged 32 years 338 days, behind only Gareth Barry.
And currently Alisson Becker is tied with Javier Mascherano in an LFC record. Both players went 15 games unbeaten in their first Premier League games for the club. If Liverpool avoid defeat then Alisson will surpass the Argentian midfielder with 16 unbeaten PL games.
Today's referee is Lee Mason.
Confirmed LFC team
Five changes from mid-week
Starting eleven: Alisson, Matip, Van Dijk, Robertson, Fabinho, Milner, Wijnaldum, Keita, Shaqiri, Salah, Firmino.
Subs: Mignolet, Mane, Henderson, Sturridge, Lallana, Origi, Alexander-Arnold.
We're 'expecting' that Fabinho will fill in at right back.
Here's how Bournemouth line up. Former red Jordon Ibe on the bench for them.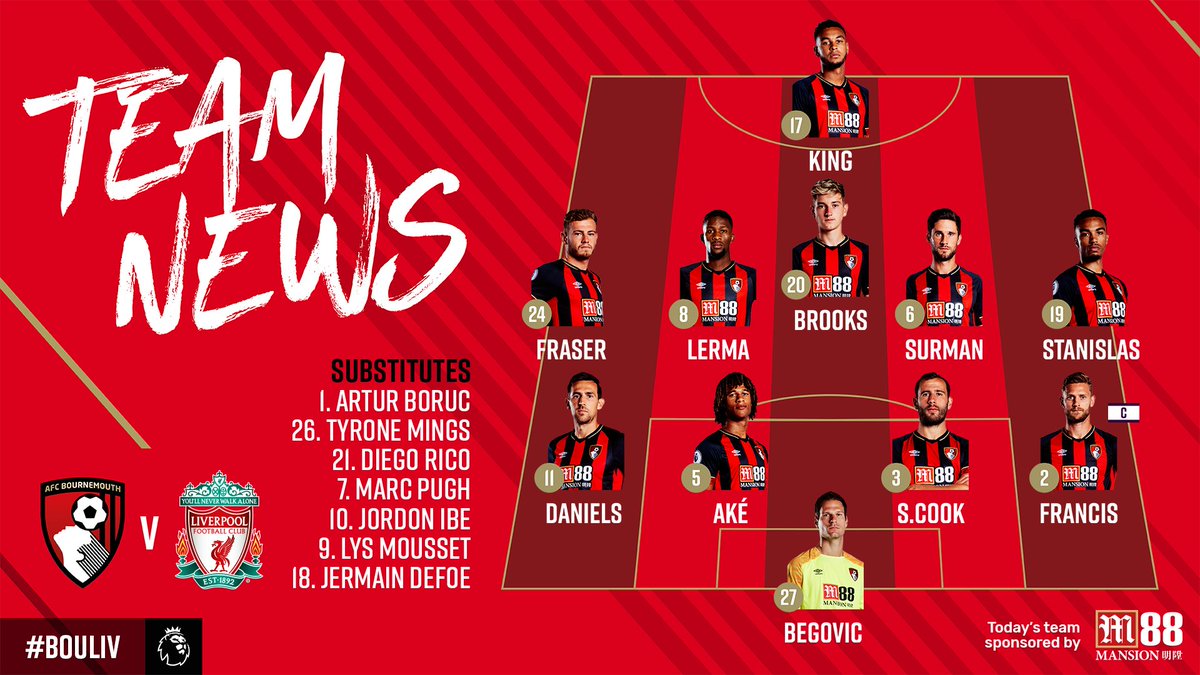 Klopp
Klopp on changes:
"Football rhythm is a very important thing. If you have no rhythm, like the first half v Burnley, it makes things uncomfortable. But the second half was good.

"We don't think about Napoli (Tuesday) at the moment but we can't ignore it.

"We need to be flexible (Milner playing right back) but it's only slightly different. We are quite an offensively minded team. You need all the defensive skills as well. It's a job to do. It's nice to be part of (his) 500th game.

"Bournemouth are having a fantastic season. It shows what can happen if you make the right decisions. Eddie (Howe) is one of the best.
There we go. We were wrong. Milner, not Fabinho at right back.
KICK OFF
We are underway at Bournemouth.
Bournemouth have scored the second most goals in the first half this season. 15 of their 25 have arrived in the first 45.
Second only to Man City (who have 23)
3' Milner down the wing, Shaqiri feeds the ball out wide.
Milner, playing his 500th Premier League game, sends in the cross but Firmino is adjudged to have fouled a Bournemouth defender.
4' Josh King leads with his elbow into a challenge with van Dijk.
Not sure trying to wind up the Dutchman is a good tactic.
13' Shaqiri free kick is curling but it's headed over by the wall.
Milner takes the corner kick but it's pushed back out to the half-way line.
Liverpool maintain possession and continue to probe.
14' Ball sent into Salah but he's going away from goal.
Good pass by Shaqiri but Salah can't control and fires wide.
22' Josh King dribbles a weak shot wide of the goal from just inside the area.
There were Bournemouth runners a few yards away at the back post.
A rare move forward from the home team.
Chance
23' Stanislas feeds the ball into the area and David Brooks turns and shoots. Tipped away. Better from Bournemouth.
GOAL
25' There we go. Roberto Firmino smashes a shot from 25 yards out, Begovic can only parry it right into the middle of the area.
Bad idea, because Mo Salah is there to put it in the net.
38' Frentic action as both teams are going gung-ho trying to retain possession.
Another corner here for Bournemouth.
Alisson comes out to punch. It's wet, it's windy, and he did well there - a lot of curl on that corner.
42' Now Liverpool with a corner. Move started with a threaded ball from Keita that Salah latched on to.
Approaching half-time.
And Milner goes for an attempt on goal direct from the corner.
Begovic catches standing on the goal-line.
Milner makes a mess of a sliced clearance - it's heading into the Liverpool area and out comes Alisson with a huge leap and heads it away from danger.
King took a knock there.
Two minutes added time...
HALF TIME
Deserved half time lead from Liverpool who have looked more than decent in that first half.
Keita having another good game in his continuing LFC development.
Bournemouth 0-1 Liverpool
Back underway
Second half is go.
A win takes Liverpool top.
GOAL!!
48' Great start to the second half - Firmino on the half-way line plays in Salah - he's running towards goal.
Bournemouth defender tries to trip him up just outside the area but he keeps going and puts the ball in the net.
55' Bit of a delay there while Steve Cook got some treatment. He accidentally took a kick in the ankle from Salah.
Instant karma however because it was Steve Cook who raked his studs down the back of Salah's ankle just before the second Liverpool goal.
Ole!
59' Liverpool fans enjoying the display here on the south coast. Chants of 'Ole' as the reds keep possession deep into the Bournemouth half.
And it almost ends in a goal as the ball is flicked over the defence into Salah's path. He's offside.
He is looking for his hat-trick here.
In control
64' Liverpool looking in control here. Camped in the Bournemouth half and the corner count is mounting.
Double change coming up.
LFC Subs
65' Naby Keita and Xherdan Shaqiri head off - they're replaced by Sadio Mane and Adam Lallana.
67' Corner Bournemouth...
Floated to the back post but Liverpool are clear and on the attack yet again.
GOAL!!!!!
68' And Steve Cook puts the ball in his own net.
Bournemouth 0-3 Liverpool
Andy Robertson whipped in a cross and it comes off Steve Cook's inside leg.
Unlucky lad! Ha ha ha!
Yellow card
70' Fabinho's name is put in the book. Foul just outside the area.
Dangerous free kick territory.
Stanislas gets it on target but.... Alisson saves.
72' Firmino with a run, he plays it sideways to Lallana. It falls to Salah who can't get his shot away.
Liverpool looking for a fourth.
HAT-TRICK
77' MO SALAH!!!
He leaves Steve Cook for dead, and he twists and turns the goalkeeper twice before planting the ball in the net.
Genius. And a hat-trick.
Sub
81' Final change from the reds. Firmino off and on comes captain Henderson.
85' Liverpool working around the penalty area and Milner's shot almost takes a deflection in to the net.
The reds have another corner late on.
Robertson cross in but Wijnaldum's header is directed away from goal.
93' Only a couple of the 5 added minutes to play.
FULL TIME
Wonderful victory for Liverpool.
Mo Salah collects the match ball - great from him and great team performance too.
Bournemouth 0-4 Liverpool
Salah: 'My expectation is very high. The most important thing is we win each game, go top of the table.'
Milner: 'The result is the most important thing. We need to keep getting the three points. Obviously the games keep coming thick and fast.'