Liverpool should have had their place in the top four cemented a long time ago but the wheels have come off the reds league form in the last month.
No doubt their attention on the Champions League quest has been a distraction but poor draws away at Everton, now relegated West Brom and a goalless home effort against also relegated Stoke City were compounded when they handed three points to Chelsea last weekend.
A slip up by Chelsea in mid-week means that a draw, not the win will now be enough for the reds.
However the reds have a 13 day break between this game and the Champions League final.  That would be a long time to dwell on questions about poor form, or heaven forbid falling outside the top four and having even more pressure on the game in Kyiv.
The reds do not have much wriggle room in the team selection with a number of players out until pre-season.  Brighton are safe, but the difference in their final league position means they have as much as £12M of Premier League prize money riding on their result.
The reds will be wearing their new home kit for the first time today.
Here we go...
As it happened...
Can Solanke take his chance?
Today's reds
Karius, Alexander-Arnold, Lovren, Van Dijk, Robertson, Henderson, Wijnaldum, Mane, Salah, Firmino, Solanke.
Substitutes: Mignolet, Clyne, Klavan, Moreno, Lallana, Ings, Woodburn.
KICK OFF
We're underway at Anfield. Weather is glorious. Let's hope the result matches it.
Brighton won the toss and Liverpool are kicking towards the Kop.
Not been a successful tactic for opposition teams this season when they've forced us to do that.
Good atmosphere
Liverpool fans seem aware of the importance of this game.
Plenty of noise before the game and in the early stages.
New Home Kit on display
Liverpool debuting their new home kit here today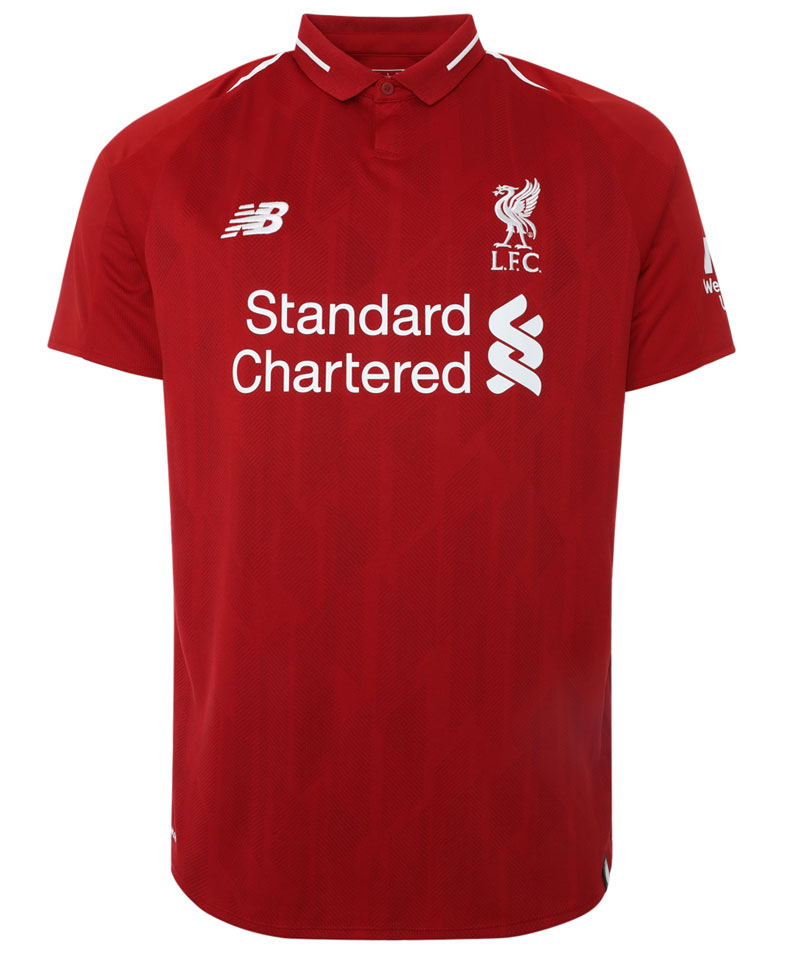 8' Solanke forces the keeper into a half-forced error but he goes the wrong side of the keeper who manages to get a second chance to grab the ball.
Liverpool started brightly. Just had a potential hand-ball shout in the Brighton penalty area.
Spurs v Leicesters is 1-1 already after 7 minutes. Vardy and Kane with the goals there.
If results go the right way Liverpool 'could' finish 3rd today.
18' LFC dominating in the early spells with almost three quarters of possession but limited chances. No goals for LFC in the last two league games remember.
18' More fury from the Anfield crowd. Kop screaming for a penalty and loud boos. Salah appeared to be fouled. He was fouled. Klopp furious on the touchline.
19' Mane's drilled a great chance inside the area straight at the keeper.
GOAL
26' Driving run by Alexander-Arnold, nice little touch in the area from Solanke and it's MO SALAH who fires in for the Premier League record 32nd goal in a 38 goal season.
Liverpool 1-0 up!
Latest: Newcastle 1-0 Chelsea
GOAL
40' Cross over from Robertson and Dejan Lovren leaps highest to head in from 8 yards. Good leap, great header, 2-0.
Liverpool fully in control.
Lovren brings up goal number 132 of the season for Liverpool. Only the second time in the club's history we have scored more than 130 goals in a season and now just 6 short of matching the all time record of 138 from 1985/86.
Half time table
Second half
Liverpool are in a commanding position at the moment.
45 more minutes to go until full focus on the Champions League.
Second half underway.
49' Firmino shot from the edge of the area and it's tipped wide by the keeper.
50' From the resultant corner - snapshot by van Dijk straight at the keeper.
DEBUT GOAL!
53' And finally.. with the last game of the league season... Dominic Solanke smashes the ball into the roof of the net.
Well done fella.
Double sub
56' Changes for Brighton.
Kayal and Locadia off.
Gross and Murray come on.
58' Oooh..
Bobby Firmino should have scored there. Salah feeds the Brazilian but the ball arrives a bit too quick and it's knocked over by the keeper.
Newcastle now leading 3-0 v Chelsea.
Liverpool are going to be in the Champions League next season.
69' Reds have eased down a couple of gears now. It's going to take an exceptional last 20 minutes of the Premier League for Liverpool to be denied Champions League football.
Brighton attempting a few forays forward but they too appear to have accepted their fate.
Sub
73' Sadio Mane heads off and on comes Adam Lallana for 17 vital minutes.
Final LFC subs
84' Firmino and Salah go off. On comes Ings and Woodburn.
Harry Kane has just scored his 30th goal of the season in an interesting 5-4 game v Leicester City - that's two behind Mo Salah who now can't add anymore to his Premier League tally.
GOAL
85' Andy Robertson scores with his debut goal! It's just outside the six yard box and a drilled left footed shot.
FULL TIME
LIVERPOOL HAVE QUALIFIED FOR THE CHAMPIONS LEAGUE
Liverpool reach 75 points and secure their top four place with an emphatic win.
The reds have scored 134 goals so far this season. Salah has broken the PL season goalscoring record and Andy Robertson and Dominic Solanke are off the mark!
Liverpool 4-0 Brighton