Wolves will be hoping to leapfrog Man Utd into 6th place - meanwhile the reds have even loftier ambitions.
The Premier League newcomers are enjoying a good season back in the top flight.  And they are proving no pushovers.
They beat Chelsea at Molineux and have held Man City to a 1-1 draw here this season, one of only three teams that Man City have dropped points against (the others being Chelsea and ourselves).
Wolves other games against a top four side saw them narrowly beaten 3-2 by an attacking Spurs side but drawing away from home against both Arsenal and Man United.  In fact, in six games against the top seven this season, they have lost just once.
But Liverpool are current Premier League leaders and after ending Jose Mourinho's reign at Man United last week we should go into this game cautiously optimistic.
Kick off coming up - follow the game with us on Anfield Online.
As it happened...
LFC kick off the festive campaign
The four game Premier League festive period is about to get underway.
Wolves are flying high with their attacking style of play. But if Liverpool can get the win tonight they will go four points clear and be top of the Premier League this Christmas.
Confirmed LFC Team
Two changes for Liverpool. Henderson making his 300th appearance for LFC.
Alisson, Milner, Lovren, Van Dijk, Robertson, Henderson, Fabinho, Keita, Mane, Salah, Firmino.
Subs: Mignolet, Clyne, Wijnaldum, Sturridge, Lallana, Shaqiri, Origi.
Wolves line up
Diego Jota, who has impressed in the past few weeks for Wolves, misses out due to an injury sustained in last weekend's game for the home team.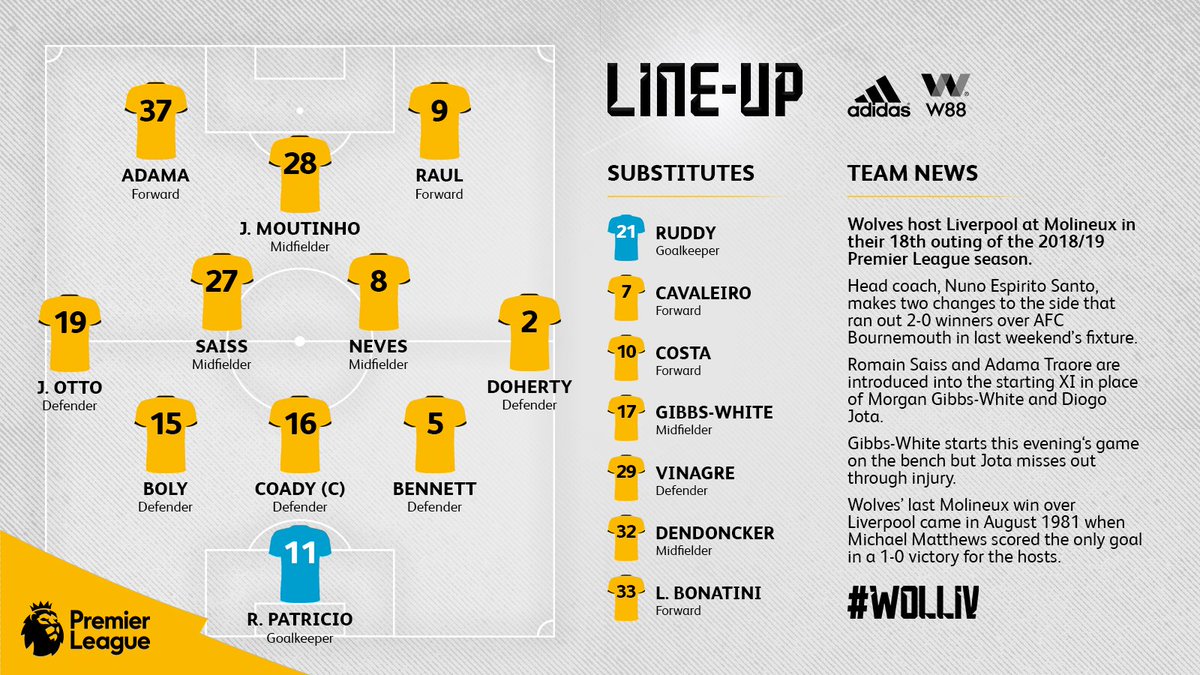 Currently a DJ playing a set before this game with lights and pyrotechnics on the pitch.
Bit weird.
Players out on the pitch
And Trent Alexander-Arnold is in the away end with the Liverpool fans...
KICK OFF
We are underway at Molineux.
It's a bit wet out there!
4' Fabinho gives the ball away in a dangerous position just outside our area and Adama Traore gets a chance - he puts it wide though - got a bit too excited.
9' Decent spell of possession for Wolves ends with a massively overhit pass that goes out for an LFC goal kick.
Keita took a bit of a knock a moment ago but has shaken that off.
10' Quick counter attack for Wolves - but Adama Traore drills the ball wide after being held up by van Dijk.
13' Liverpool corner lands at the feet of van Dijk. He controls the ball, sidesteps a defender but his shot is blocked.
14' Liverpool opened up and the shot comes in at Alisson. It takes a deflection but Alisson manages to get behind it and Fabinho clears.
And Wolves again with a ball into the box. Alisson out to slide and collect the ball.
18' Matt Doherty with a nasty looking challenge on Naby Keita there
GOAL
19' From that free kick the ball finds its way to Fabinho who drills a ball back into the danger zone - outside left foot and Salah smashed it in.
26' Milner cracks a shot edge of the area. Keeper gets behind it.
29' Fabinho showing off his passing range again, just like he did v Man Utd. Quick move there for the reds and Mane flagged offside.
Then Mane turns provider and Bennett just about stops Salah doubling LFC's lead.
Has to be more goals in this game.
38' Milner, filling in at right back tonight, struggling a bit at times with the pace of Wolves wide men.
Wolves upping their game, and the weather isn't helping. Ball goes through Lovren's legs and Jonny gets a shot away.
Alisson saves.
43' Furious shouts from Wolves fans for a penalty but Doherty ran into Milner's leg, replays show.
It has been chucking it down with rain for the entire first half here and there have been plenty of mistakes in controlling the ball.
And there's a giveaway by Keita, it's a chance for the home team, but it's drilled again at Alisson.
HALF TIME
Liverpool the better team for the first half hour. Wolves capitalising on some LFC errors in that final 15 minutes.
It's 1-0 to the reds though at half time. Can't see it staying that scoreline.
Should we mention this? Yeah let's risk it.
Last 40 league games Liverpool have been leading at half time we haven't lost. Won 35 Drawn 5.
47' Liverpool with patient buid up and the first corner of the half goes to the reds.
And it swings out to Salah at the edge of the box. He has time but he fires his shot over the crossbar.
52' Wolves almost got themselves in trouble. Good passing from Liverpool and a ball into the area causes some confusion. They got away with one there.
55' Milner with a shot over the bar - the reds were switching play from right to left and back.
There have been one or two Wolves mistakes conceding possession in this half. Promising.
LFC substitution
58' Looks like Keita coming off. Took a knock in that first half and looks like it is still plaguing him.
He's off. Adam Lallana on.
Double sub for Wolves
63' Fresh legs on. Joao Moutinho and Adama Traore off and on comes Morgan Gibbs-White and Ivan Cavaleiro.
68' Wonderful work by Mo Salah, he manages to lay it out to Mane, who passes to Lallana and it comes to nothing.
Could have been a much better outcome there.
GOAL
68' Wolves poor clearance - it falls to Salah about 25 yards out. It's a great cross deep back into the box, and van Dijk is still there to score his first league goal for Liverpool.
2-0 to the reds.
74' Another pinged pass from Fabinho to his mate Salah, the Egyptian just takes a touch too many though and Rui Patricio smothers the ball.
LFC sub
76' Firmino comes off and on heads Wijnaldum for the final 15 minutes.
Final sub for Wolves
81' Jonny is off, Ruben Vinagre is on.
84' Wolves keeper again denies Salah. The Liverpool forward was approaching the six yard box from quite a narrow angle and Patricio held his ground.
Reds corner....
.. headed over and wide by Mane.
Final LFC change
87' Nathaniel Clyne gets some minutes - he's on for Sadio Mane.
89' Cross from Wolves and it hits Robertson's back heel. Great chance for Wolves at the edge of the 6 yard box but he drills it wide.
They should have scored there. It remains 2-0 to the reds.
Into injury time
Liverpool are going to take all three points tonight.
We're going to play 5 minutes injury time.
FULL TIME!
It is all over. A potentially tricky game for the reds but Liverpool do what Chelsea, City, United and Arsenal couldn't manage - and that's take 3 points off Wolves.
Liverpool move on to 48 points - 4 points ahead of Man City, and 22 points ahead of Man Utd in 6th.
LFC will be top of the Premier League on Christmas Day.
Virgil van Dijk asked post match what was better? Scoring a goal or keeping a clean sheet.
'The win' is his answer.
Klopp:
'It was difficult tonight. With the weather, all the shots were at like 50% power. The little passes between Milner and Fabinho. We didn't give much away.

They had chances of course but they didn't have a lot. They did well but we deserved to win - we were the better side.

Towards the end of the first half we stopped playing football. But in the second half we had to keep the ball.

We were a constant threat. Mo was unbelievable, I think 20-30 sprints tonight.'
Klopp:
'We know we are good. We know we're in a good moment. For the moment it's really nice but now we have to get fresh legs and ready for Newcastle.'