Liverpool will shortly get their UEFA Champions League Semi Final 1st Leg underway in Barcelona.
The Catalan giants are fresh from clinching their 8th La Liga title in 11 games and will be in high spirits.  Both clubs are aiming for a 6th European Cup title.
For the reds this is the clubs second consecutive appearance at this stage whilst Barca have been dumped out at the Quarter Final stage on each of the last three occasions.
Whilst Barca's main focus can rest with this competition, the reds do have another important league fixture sandwiched between this game and the second leg at Anfield in just 6 days time.
Can Messi be kept quiet, or is that the hardest job in world football.  What is for certain that both of these teams do have the capacity to inflict a blow on each other - but which side will play better tonight?
Follow the game with us here!
As it happened...
Klopp expecting suffering and opportunity
Klopp used last night's press conference to say that at times tonight Liverpool 'will suffer' but also that '100%' Liverpool will have chances.
It's all down to whether or not Liverpool take those opportunities.
You can read more of his pre-match press conference here
Eyes on Messi
He has 24 goals in his 32 games against English clubs in the Champions League.
He hasn't scored in his two games against Liverpool though, yet.
Tonight is Liverpool's 11th European Cup/Champions League semi-final. In the previous 10 ties, the reds have advanced to the final on 8 occasions - 1977, 1978, 1981, 1984, 1985, 2005, 2007, 2018.
15 minutes until we see the line ups for tonights game.
Top scorer in this years competition is still Messi with 10 goals in his 8 games.
Mane, Firmino and Salah each have 4 goals with a combined 4 assists.
Coutinho and Dembele both have 3 goals whilst former red Luis Suarez is waiting to open his account for this season's Champions League.
Confirmed LFC team: Gomez starts - Firmino bench
A total of four changes for tonight. Firmino starts from the bench.
Alisson, Gomez, Matip, Van Dijk, Robertson, Fabinho, Milner, Wijnaldum, Keita, Mane, Salah.
Subs: Mignolet, Lovren, Firmino, Henderson, Shaqiri, Origi, Alexander-Arnold.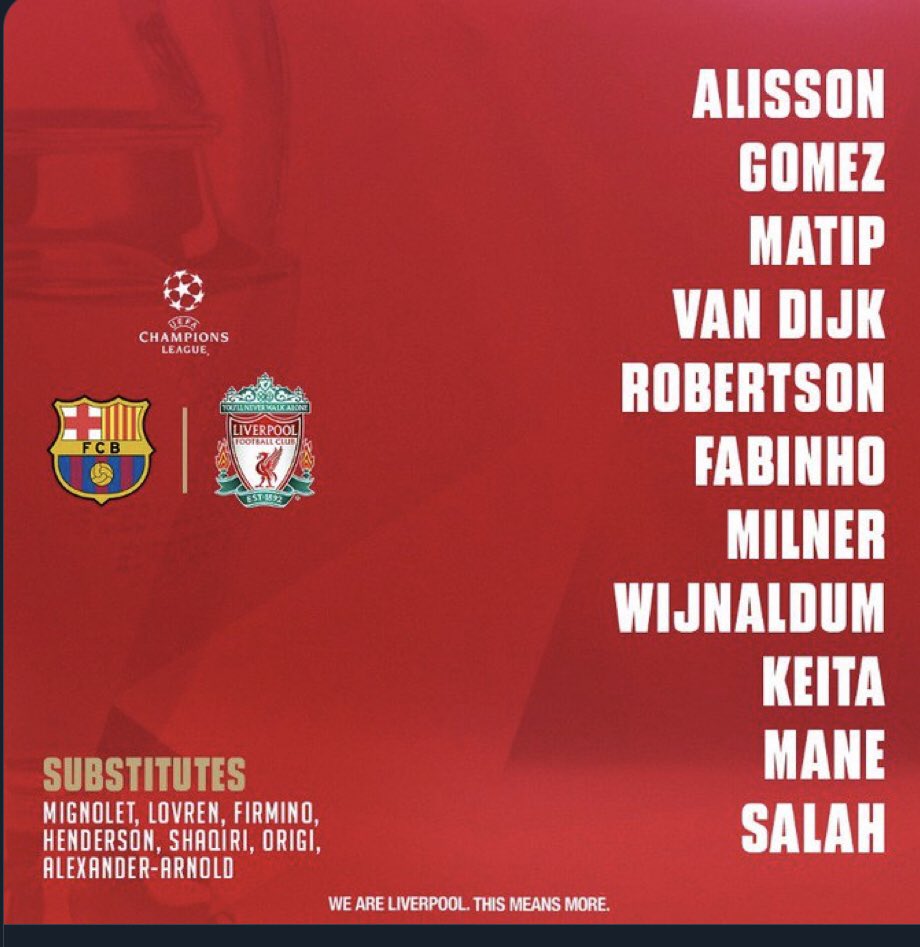 Barcelona team
Here's how Barcelona line up tonight

Ter Stegen, Pique, Rakitic, Sergio, Coutinho, Messi, Suarez, Lenglet, Jordi Alba, Sergi Roberto, Vidal
Subs: Cillessen, Semedo, Arthur, Dembele, Malcom, Umtiti, Alena
An interesting line up then for the reds.
Gomez making his first start since the end of 2018 with Alexander-Arnold making way. Fabinho, Keita, Milner and Wijnaldum all start in the reds 'midfield'.
Both Liverpool's home and away kit are deemed to clash with Barcelona's kit so it's the third kit for tonight's game.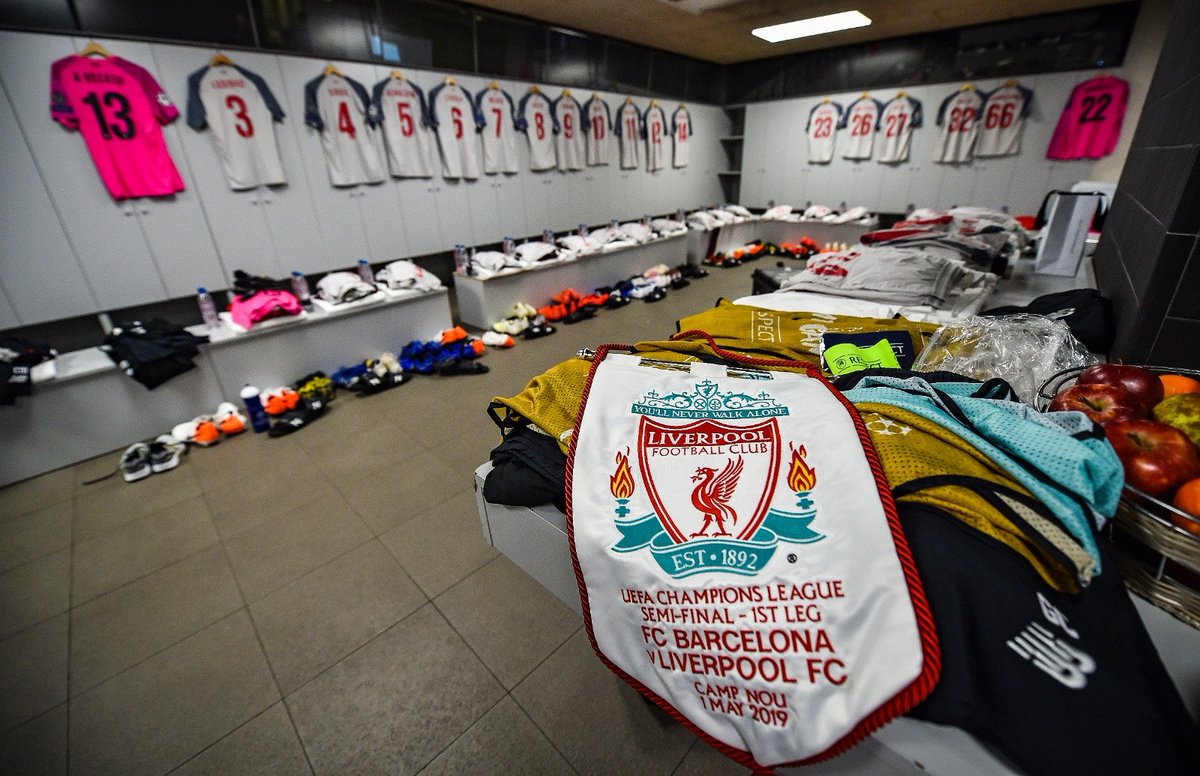 Klopp
'We have the diamond from time to time but it's not constantly. We have to be createive and now we will see if it works.

(On Gomez) 'The boys are all in good shape but TAA played 5 games in a row and we have a game on Saturday. Milner and Fabinho haven't played recently so it was clear we had to use him.

Midfield is really intense so its important we have legs there.'
We ready...
Milner and Messi exchange pennants, shake hands and it's almost time.
KICK OFF
We are underway at Camp Nou.
2' Liverpool on the front foot and Wijnaldum adopting a centre-forward role in these early stages.
Mo Salah applying pressure inside the Barca penalty box.
5' Mane powers into the area and it looked for a minute there like Pique barged into the back of him and knocked him over.
Nothing given.
7' Ball fed through to Luis Suarez but Joel Matip is there to easily intercept.
Steady build up again for the reds.
Suarez with his feet off the ground and he clatters into James Milner.
Lucky to avoid a yellow card.
13' Moment there for Barcelona with Jordi Alba down that left wing.
He sent it in and Messi kind of flicked the ball up onto Matip's hand. No penalty given - would have been very harsh that.
15' Coutinho shot. Alisson saves.
18' Pique fouls Mane who wins a foul but it's a very tight angle towards the goal from here.
Naby Keita holding his groin, limping a little bit and now receiving treatment.
Henderson out warming up.
22' Klopp having extensive discussions with Milner and Mane. Henderson coming on for Keita.
Temporarily down to 10 men.
LFC Substitution
24' Henderson comes on for Keita who came off injured a couple of minutes ago. He takes the armband off James Milner and adopts his position on the right hand side.
Goal
26' Barcelona make it 1-0. Jordi Alba's ball through and Luis Suarez launches forward and puts it in the back of the net.
34' Henderson sends a ball in and for a minute you thought we were on for another Sadio Mane headed goal.
Pique though manages to put it behind.
Big chance for Liverpool
35' Great ball by Salah - it slices the defence and Mane should have done much better. He fires over.
38' Henderson (who passed for Mane earlier) loops another ball forward for Mane but this time Ter Stegen comes out to collect.
Yellow card
39' Salah has the beating of Lenglet who is forced into the foul. And the Barca man gets a yellow card.
45' Messi looking to try and get James Milner booked there. He has a cheeky smile but the refs not having any of it.
Luis Suarez joining in with the protests. Virgil van Dijk has a word with him.
45+3' Suarez could blow his top in this game. He grabs Robertson arms after the Scotland captain dispossesses him.
HALF TIME
It's been a very good game. Two great chances.
Suarez took his. Mane didn't take his.
Not a lot to separate these two.
HT: Barcelona 1-0 Liverpool
Everyone's come to see Liverpool
It's Barcelona's biggest attendance of the season.
98,299.
46' Straight from the whistle, Suarez goes down in stages after a minor touch from Matip.
Early chance for the reds
47' Tricky work by Salah, he finds Wijnaldum, who finds Milner.
He shoots a curling right footer from the corner of the area but Ter Stegen makes the save.
53' Henderson in the area with a backheel - its heavy but Salah manages to create the space to have a shot and Ter Stegen has to tip it wide.
LFC starting the second half even more brightly than the first half.
Big chance
59' Milner with another great opportunity. Salah did the work, Milner runs in and smashes it straight at Ter Stegen.
Barca sub
60' Coutinho goes off and Semedo comes on to replace him. Not a £125M performance.
67' Liverpool still looking to make that break through. On top for this second half, and in truth for most of the game, but still no away goal.
Barcelona have now gone 4-4-2 as they try to hang on to their lead.
They're just solely playing on the counter now.
Goal
75' Ah bugger. Totally against the run of play, Suarez shoots and it hits the crossbar and Messi runs in for the easiest of goals.
Barcelona 2-0 Liverpool
LFC Sub
79' Firmino now on for Wijnaldum.
Goal
82' Wonderful free kick from Leo Messi. Sails straight into the top corner.
Big chance
84' Double chance for the reds. Firmino and Salah both should have scored there. Firmino's shot cleared off the line and then Salah's shot cleared off the line.
It's just one of those nights!
LFC Sub
85' Divock Origi is on for James Milner.
90' We've got five added minutes.
Double sub Barca
90+3' Suarez and Sergi Roberto off with Dembele and Alema on.
FULL TIME
Messi was quite simply the difference.
Barcelona 3-0 Liverpool
It's not over, but it most probably is!
Down, almost out but not quite all over
Liverpool's first defeat for months. Bit of a weird feeling.
The reds were on top for large periods of the game. Mane arguably with the best chance first half to level the scores.
Firmino and Salah both involved in a double chance in the second half and Milner with a couple of shots that had they fell to someone else - could have been angled and in the back of the net.
Barcelona's second goal, which came back off the crossbar from Luis Suarez's thigh was the killer blow and then Messi sealing it with a free kick.
Second leg to play but it looks a huge ask for Liverpool - especially without the away goal.
Klopp is almost smiling wryly when he's asked by the reporter that he doesn't understand how it ended 3-0.
'Football is like this. They scored three. We scored none. The performance was really good to be honest but a few magic moments from them and they score each time.

I'm really happy with the performance but not happy with the result.

It's a harsh result but we have to accept it and we do.'