Jurgen Klopp returns to his native Germany as Liverpool face their second leg clash with fellow five time European Champions Bayern Munich.
The first leg, at Anfield, ended 0-0 meaning this tie remains finely balanced despite the Munich side enjoying home advantage in this second leg.
Video Referee's are again in use as they were in the first leg, although they were not required in that goalless affair. All tonight's officials are from Italy.
Although the reds are away from home and thus facing a hostile environment, they do have the technical advantage of being free to try and get what could be an important away goal.
Bayern are aiming for what would be an 8th consecutive appearance in the Quarter Final stage.
Follow the match with us live.
As it happened...
Confirmed LFC team
Two changes for the reds - Henderson and Milner back in for Fabinho and Lallana.
Alisson, Alexander-Arnold, Matip, Van Dijk, Robertson, Milner, Wijnaldum, Henderson, Mane, Salah, Firmino.

Subs: Mignolet, Fabinho, Lovren, Sturridge, Lallana, Shaqiri, Origi.
Strong looking Bayern side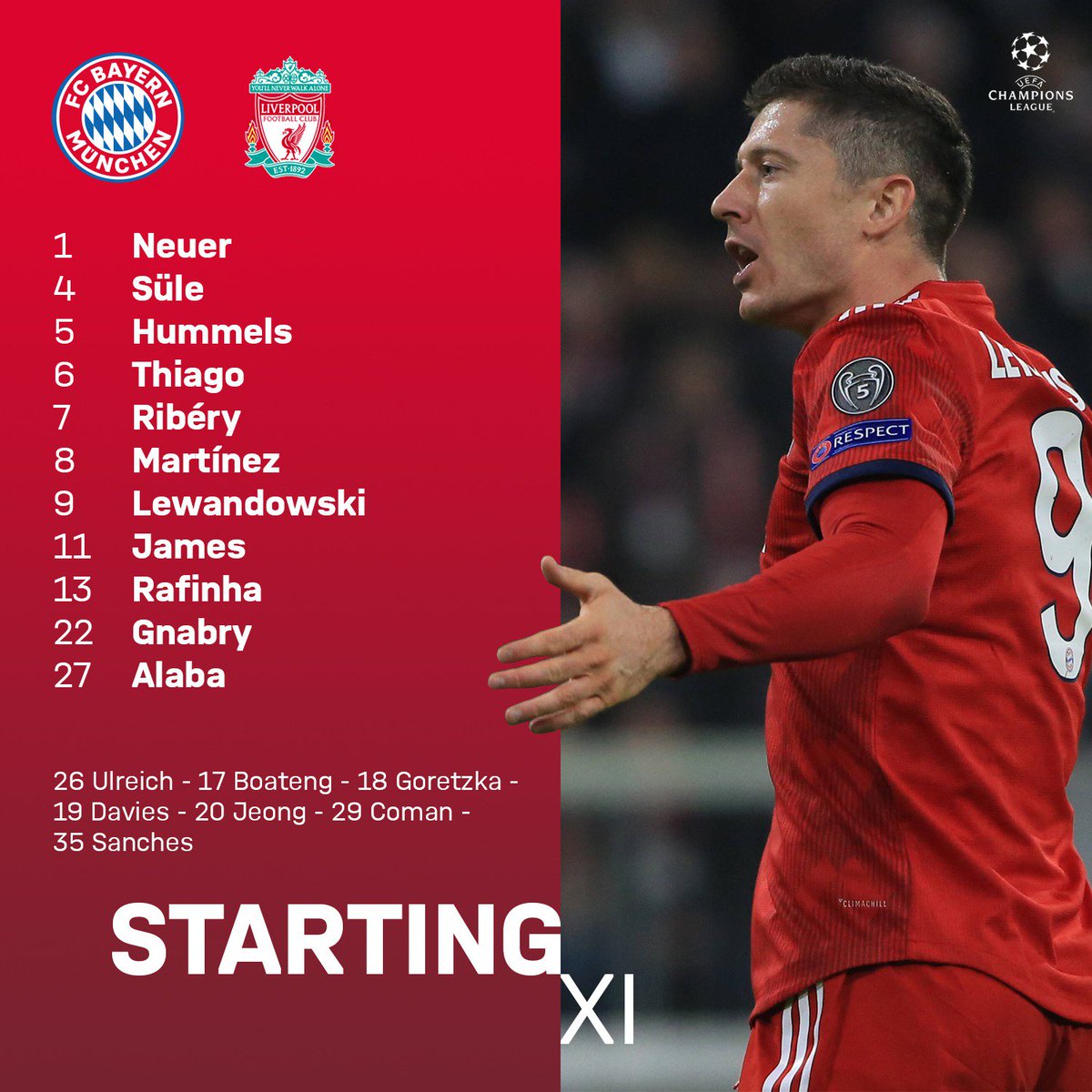 Reds must end losing away record in Europe
The reds are flying high in the Premier League, and they have once again reached the knockout stage of this competition.
But there's been a murky path plodded in this competition in 2018.
Here's Liverpool's last five European games away from Anfield.
Nov 2018 - Lost away at PSG 2-1
Nov 2018 - Lost away at Red Star Belgrade 2-0
Oct 2018 - Lost away at Napoli 1-0
May 2018 - Lost in Ukraine v Real Madrid 3-1
May 2018 - Lost away at Roma 4-2
Liverpool did beat Man City away from home, but the reds last victory in this competition not on English soil was on Valentines Day 2018 - almost 13 months ago!! A 5-0 win at Porto.
2' Ribery and Alaba going to try and prove a handful for Trent Alexander-Arnold down that side of the pitch tonight.
Cagey opening. Teams trading passes.
4' Foul on James Rodriguez by Henderson.
6' Henderson's shoe is off. Receiving treatment.
Liverpool temporarily down to ten men.
9' Thiago gets a shot away, the first of the game. Alisson watches as it curls away from the top left hand corner of the goal.
11' Lewandoswki tumbles in the area. He's looking for a penalty but the ref waves that one away.
Munich fans want a pen, replays suggest he went down too easily. No VAR review.
Fabinho taking his tracksuit top off. He's coming on for Henderson.
LFC Substitute
12' Fabinho is on for Jordan Henderson.
It's tight...
...so far.
18' It's more of the 1st leg here. Just one speculative shot in this game so far.
Firmino shot
25' The Brazilian had plenty of power on that shot but it was wide of the goal.
GOAL!!!!!!
26' SADIO MANE!!!!!!!! 1-0
He collects the long pass - here comes Manuel Neuer.
At the edge of the area, Sadio spins on a sixpence and lashes it in.
30' Poor ball from Trent AA in the centre of the pitch and Gnabry ends up getting a shot away, that takes a deflection, but luckily Alisson makes it look comfortable.
33' Superb work from Salah who collected the ball in a defensive area, with players around him, and managed to get it back into the Munich half. Excellent.
As it stands, Munich have to score twice.
35' Liverpool slice Munich apart, Robertson has a shot from a tight angle and Neuer saves and out for a corner.
GOAL
39' It's an equaliser for Munich.
Cross came into the area, Lewandowski prowling and it took a touch off Matip into the net.
1-1.
45' Nervy moment there as the ball gets past Alisson with Lewandowski running in on goal.
Alexander-Arnold shepherds it out.
HALF TIME
Munich 1-1 Liverpool
Sadio Mane opened the scoring but Bayern Munich grabbed one back through an own goal.
It's a cagey game but it won't be going to penalties thanks to Liverpool's away goal.
After 3 halves of football the reds hold the very smallest of advantages.
SECOND HALF
Back underway. Big half of football ahead.
50' Powerful hit from Salah - Neuer saves and pushes it out.
30 minutes to go
60' We're about to see some subs. It's getting into that nervy period of the game where you might think that a next goal wins.
And that was a chance for Munich with a ball drilled across the face of goal.
Sub
61' Franck Ribery heads off and on comes Kingsley Coman. An injection of speed for the home side...
63' Yellow card for Joel Matip. Foul on Lewandowski.
65' And now a yellow for Thiago. Good breakaway there by Wijnaldum to draw the foul.
GOALLL!!!!!
68' FROM THE CORNER IT'S VIRGIL VAN DIJK TO HEAD IN!!!
Watch him defend and watch him score.
BM Sub
72' Javi Martinez is replaced by Leon Goretzka.
75' Salah worms his way into the box and just as he is about to pull the trigger, a defender gets a touch on the ball.
That would have definitely been curtains for the German side.
Final Bayern Sub
78' Renato Sanches on for James Rodriguez.
Liverpool have used just the one substitute in the 12th minute.
LFC Sub
83' Divock Origi is on for a tired Roberto Firmino.
GOAL!!!
84' It's all over now. Salah flicks the cross in and Sadio Mane is at the back post to head in for his second in this game.
Comprehensive Liverpool performance.
Munich 1-3 Liverpool
Final LFC Sub
87' James Milner heads off and Lallana comes on. The captains armband moves for the third time in this game.
Virgil van Dijk now in possession of the captaincy.
Yellow
90+2' Bit of a silly yellow card for Andy Robertson there. He now misses the first leg of a Quarter Final.
If he had managed another minute then the yellow card count would have been wiped clean.
FULL TIME
Bayern Munich 1-3 Liverpool
Absolutely brilliant result for the reds there. More goals for Sadio Mane and Virgil van Dijk.