For the second time in 5 years Liverpool have taken the title race to the final day, but just like in 2013-14 a miracle is required.
The reds begin the day on 94 points, a sensational figure in a season which has seen Liverpool lose just one game from 37.
But Manchester City have been one point more impressive and only have to match LFC's result today when they face a Brighton side who narrowly avoided relegation from the division.
Mo Salah and Sadio Mane are both in the hunt for the golden boot, and a win would take the reds on to 97 points.
The title remains a long shot, but not as much of a long shot perhaps as Tuesday's sensational turnaround over Barcelona was.
Either way, today no longer signifies the end of Liverpool's season with a date for European Cup football's most storied prize available in just 20 nights time.
We will aim to keep you up to date with today's action from Anfield here - enjoy today's game.
As it happened...
One more time
So here we are, matchday 38.
As ever for the final game of the season it's that rare sight of all 20 Premier League teams kicking off at exactly the same time.
Here's the full fixture list for today at 3pm
Brighton v Man City
Burnley v Arsenal
Palace v Bournemouth
Fulham v Newcastle
Leicester v Chelsea
Liverpool v Wolves
Man Utd v Cardiff
Southampton v Huddersfield
Spurs v Everton
Watford v West Ham
Improvement measured
Liverpool have been the most improved side in the Premier League this season so far.
A win today would mean the reds are 22 points better than last season's tally - nobody close to that kind of extra points haul.
Points compared to last season

LFC +19
-
-
-
-
-
-
-
-
-
Watford +9
-
West Ham +7
-
-
Arsenal, Everton, Leicester +4
-
Palace, So'ton +2
Bournemouth, Chelsea +1
-
-
Newcastle -2
-
Brighton -4
Man City -5
-
Spurs -7
-
-
-
-
-
-
Burnley -14
Man Utd -15
-
-
-
-
-
-
H'sfield -22

— Anfield Online (@anfieldonline) May 11, 2019
Awaiting team news
Feel like I've already been up for days...
Team news due at 2pm.
Will Andy Robertson be back available after heading off at half-time v Barcelona. Jordan Henderson may not be risked, while Mo Salah likely will return after that head injury suffered a week ago against Newcastle.
Salah and Robertson back
Confirmed LFC final day team
Alisson, Alexander-Arnold, Matip, Van Dijk, Robertson, Fabinho, Wijnaldum, Henderson, Mane, Salah, Origi.
Subs: Mignolet, Lovren, Milner, Gomez, Sturridge, Oxlade-Chamberlain, Shaqiri.
And our opponents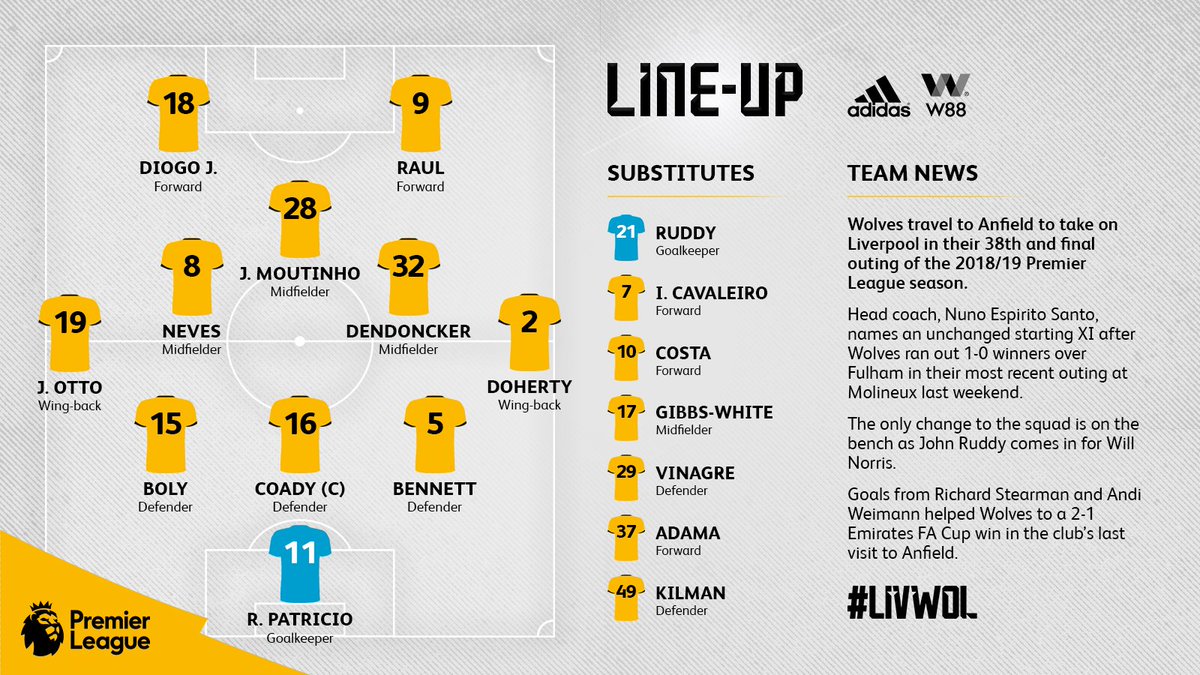 Kick off
4' Liverpool with a lot of the ball so far.
GOAL
17' Sadio Mane with the opening goal!
22' Wolves enjoying a decent spell now but no real chance created
Robertson..
25' He smashes in a shot. Keeper manages to keep it out.
Half Time
Liverpool a nervy 1-0 up.
Man City a nervy 2-1 up.
50' Two quick yellow cards for wolves. Jota and Bennett.
Great chance
Wolves are looking bright second half.
Header saved by Alisson.
City now 4-1 up ????
Goal
81 Mane SCORES! He's level for the golden boot now.
97 points.
Wonderful effort.
Now.
Madrid calling.