And so here it is.  Matchday 63 of a long but rewarding season.  The reds are searching for a third trophy and the biggest one of them all.
Liverpool hoping to capture their 7th European Cup.  Madrid chasing their 14th.  Two undisputed European heavyweights slogging it out for the third time in the final.
Liverpool have won one encounter - 1981.  Real Madrid the more recent pairing - 2018.
The reds buildup has involved victory in the FA Cup followed by eventual disappointment of being pipped to the Premier League title by a solitary point.  There have been injury concerns too for van Dijk, Salah, Gomez, Thiago and Fabinho.  And one face the reds will have to do without is Divock Origi who scored in Liverpool's 2019 European Cup win.
Fans have been arriving in Paris throughout the past 48 hours, plane, train, automobile and as it turns out a speedboat across the English channel.  The Liverpool players arrived yesterday afternoon and had some time at the stadium yesterday evening.
But now the waiting is over.   Follow the game with us here.  Up the reds!
As it happened...
Today in Paris....
Let's hope most of the reds make it to 8pm. It's been a long day filled with travel for many, and celebrations at the Liverpool fan park in Paris.
Reds fans turned the French capital into a sea of red.
Up the reds! ???? #LFC | #Paris pic.twitter.com/qfJHOj93Fy

— Anfield Online (@anfieldonline) May 28, 2022
And with many ex-reds in attendance there was even time for The King himself to be introduced to the travelling reds.
???? The King!pic.twitter.com/7NcRTgHwhx

— Anfield Online (@anfieldonline) May 28, 2022
Madrid team
Real Madrid have gone traditionally early - posting their line up to their social media accounts.
No surprises.
Courtois, Carvajal, Militão, Alaba, Kroos, Modrić, Casemiro, Valverde, Benzema, Vinicius Jnr, Mendy

Subs: Lunin, Nacho, Hazard, Marcelo, Asensio, Vázquez, Bale, Rodrygo, Isco, Camavinga, Mariano, Ceballos
Liverpool arrive at Stade de France
Seemed to be little to no escort for the Liverpool coach which was held up in traffic.
But they have now arrived at the stadium and can begin their build up for the final.
Fabinho and Thiago start for the reds
Fabinho and Thiago in for the reds.
Konate in defence.
Confirmed LFC Team
Here we go then.
Alisson, Alexander-Arnold, Konaté, van Dijk, Robertson, Fabinho, Henderson, Alcantara, Mane, Salah, Diaz
Subs: Kelleher, Milner, Keïta, Firmino, Gomez, Oxlade-Chamberlain, Jones, Jota, Minamino, Matip, Tsimikas, Elliott
Some issues for LFC fans getting into the stadium
It seems police vans have been blocking a large part of an underpass into the stadium.
Some fans have been trying to get into the ground for more than 90 minutes.
Relieved to be out of that. Police checks just beyond narrow underpasses made tighter by presence of vans unnecessarily. Crowd very patient but was becoming tense. I was there two hours and twenty minutes before kick off, like a huge number of people. Only getting in now. pic.twitter.com/ApMy9Slf8q

— Simon Hughes (@Simon_Hughes__) May 28, 2022
Reds head out for their warm up
Concerns over Thiago
He's not warming up with the rest of the team. He is training alone - going through some last minute stretches currently as Keita joins the rest of the team in training.
Could be a starting XI change.
Does appear that Keita is going to start here instead of Thiago.
Absolutely dreadful organisation at Stade de France. Here two and a half hours early, 1000s still outside. Police herded fans into dangerous bottleneck in underpass. Now gates shut with fans with tickets all stuck outside. Disgrace @uefa

— Andy Kelly (@AndyK_LivNews) May 28, 2022
KICK OFF DELAYED BY 15 MINS
Police and UEFA stewards appear to have made a big error here.
There are thousands of Liverpool fans outside who have been effectively kettled in an underpass by the French police.
Rumours that police closed gates to the stadium with fans with tickets locked outside.
Anyway, there is a kick off delay so hopefully they have time to get in.
Former Liverpool chief executive tweets
He's very critical of UEFA's organisation here. Suggestions that fans, with tickets, have been tear-gassed because the police have locked gates that should be open.
Disgraceful scenes outside the stadium. "Late arrival of fans" should read "horrendous organization". Fans have been here for hours. Stadium operations incapable of managing flow and access. Victim blaming at its very best…

— Peter Moore (@PeterMooreLFC) May 28, 2022
Main issue currently outside the ground is that they have locked a gate into the stadium. There are fans and families outside with tickets unable to get through. Rumours of stewards asking for money to get in, and of the police tear-gassing people.
The PA announcer has just told a complete lie that the match is delayed due to late arrival of fans. This chaos has been building up since 7pm. Thousands of Liverpool fans have spent 90 mins negotiating inappropriate checkpoints. This is on UEFA and Stade de France

— Rob Draper (@draper_rob) May 28, 2022
LFC Players back out
Coming out for another warm up.
Screw the fans, lets have some abstract dancing, a sponsored performance and fireworks.

— Jonathan Northcroft (@JNorthcroft) May 28, 2022
UEFA pressing on
Despite the despicable scenes outside by the French police, UEFA have started their pre-game 'Superbowl' style nonsense.
We've all been here for hours. Every mistake that they could've made in stadium access operations has been made… I was in the thick of it a solid two hours before kick off, and security checkpoints in all of the wrong places, creating massive choke points https://t.co/2kh5KQid1m

— Peter Moore (@PeterMooreLFC) May 28, 2022
Thiago is starting. Fingers crossed. Benzema and Henderson shake hands at the middle.
KICK OFF
After all the UEFA and French police delays, the final is now underway.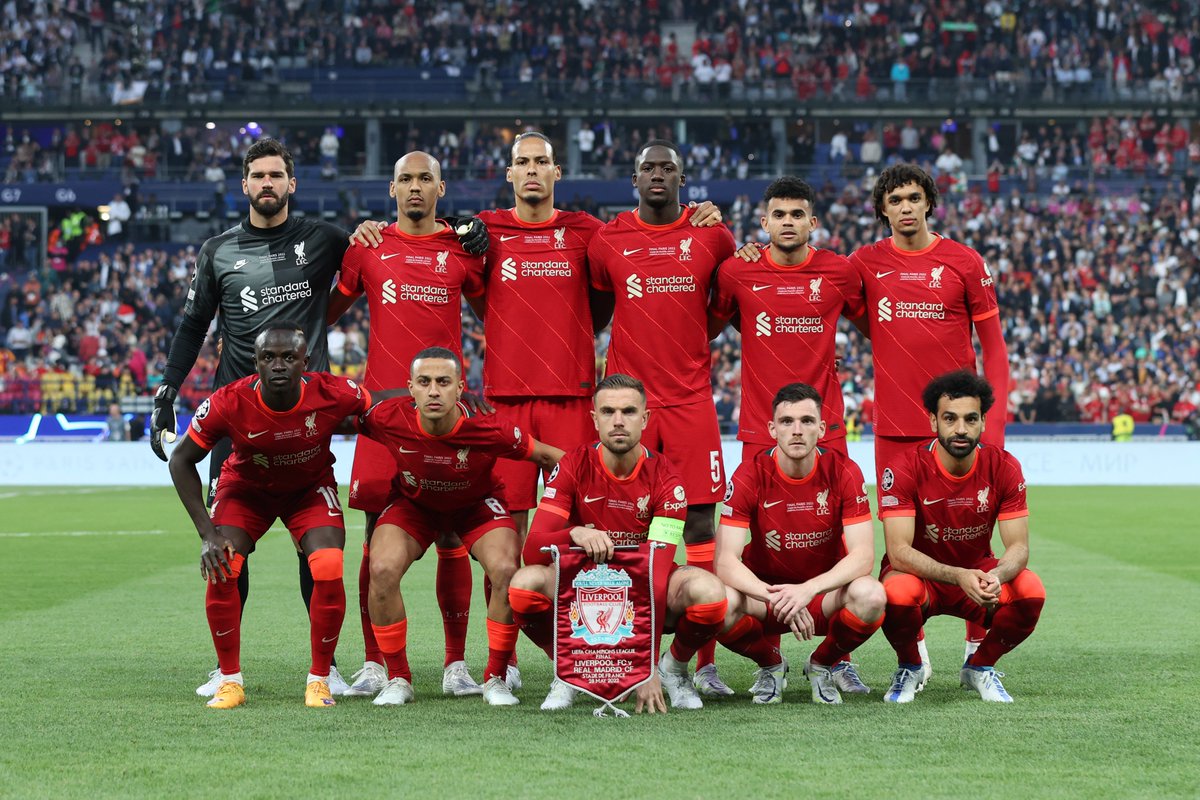 8' Sadio Mane's taken a heavy crunching tackle. Not moving great at the minute.
11' Inconspicuous start. No chances of note so far.
15' Konate takes the ball twice off Vinicius Jnr. Nice!
16' Liverpool trickery and Courtouis has to beat away a Mo Salah chance from the edge of the area.
Liverpool pushing for an opener.
18' Liverpool carve Madrid open again and Courtouis has to save another shot from Salah.
Over the bar
19' Salah sidefoots it to Trent but he smashes that over the bar.
POST!
22' That's a great turn and shot from Mane and Courtouis's fingertips help it on to the post.
25' Vinicius tries a cross/shot but Alisson claims under pressure from Benzema.
30' Crucial intervention from Trent to stop a ball feeding Vinicius.
Chance number three for Salah
35' Trent crosses it but Salah heads it straight at Courtois. Time to find those corners please Mo.
37' Carvajal can't live with Luis Diaz. That's his third foul on the Colombian but still no card shown.
Chance
41' Liverpool corner and it ends up with Henderson who connects with power but not with direction.
The reds utterly dominating but no breakthrough.
That was a long VAR check.
NO GOAL.
HALF TIME
Liverpool with almost all the chances, bar that late VAR check.
But it remains 0-0.
SECOND HALF
Back underway. No subs yet.
50' Casemiro cons the ref and wins a free kick at the expense of Trent.
55' Trent fizzes one in, Thiago is inches away and Courtouis punches away.
56' Militao with his arms all over Luis Diaz and somehow wins the free kick.
58' Salah with a couple of chances. Liverpool enjoying a nice spell and the crowd responding.
Goal
59' Vinicius Jnr is free at the back post and slams that one home. Liverpool undone by a pass by Valverde.
Disappointing and somewhat against the run of play.
Yellow
62' Fabinho booked for a late tackle on Valverde.
SAVE
64' Courtouis saves from a curling Salah shot.
Jota being readied.
LFC Sub
65' Diaz replaced by Jota.
Chance
69' Liverpool corner, Jota heads across the face of goal and Courtuois once again denies Salah at the back post.
The Madrid keeper, sadly, is having a great game.
Double LFC Sub
77' Firmino and Keita replace Thiago and Jordan Henderson.
80' Courtois rescues Madrid again. This time from a Jota deflected shot.
Great chance
82' Ball comes out to Keita at the edge of the box but boy does he get that wrong.
Totally mishits the shot.
Big chance
82' The Real Madrid keeper again. Brilliant control by Salah and a shot but the keeper puts it out yet again.
84' Big counter attack from Madrid. 3 on to 1 but they mess it up and Alisson manages to get there.
Sub
85' Camavinga replaces Valverde.
Sub
90' Modric replaced by Ceballos.
FIVE minutes of added time.
Sub
90+2' Rodrygo replaaces Vinicius Jnr.
Time running out.
FULL TIME
FT: Liverpool 0-1 Real Madrid
Difficult defeat for Liverpool to swallow. A classic smash and grab from Real Madrid really.
Absolute farce ahead of kick off made for a difficult evening.
Trent heads up last to collect his runners up medal. To their credit the Madrid fans applaud the reds.
Liverpool had about 20 shots tonight, Madrid just three but it is they who will lift the trophy.
Real Madrid lift the trophy. A very weird final. Marcelo lifts the trophy despite not playing in the final. A bit of a John Terry style moment.
Real Madrid lift the trophy. A very weird final. Marcelo lifts the trophy despite not playing in the final. A bit of a John Terry style moment.
A guard of honour for the Reds ????

A tough pill to swallow for Jürgen Klopp's men but it's been a phenomenal season for them nonetheless. They've played in every game possible this season ????#UCLfinal pic.twitter.com/5WUvxWsKus

— Football on BT Sport (@btsportfootball) May 28, 2022
Just waiting to hear from the Liverpool boss.
Klopp: 'The mood in the dressing room is not good. We played a good game - not a perfect game. Their defensive set up was tricky, which made the counter-attacks difficult. We had lots of shots but only 3 or so were Courtois made top saves. And then we conceded.'
'(Disappointed with the goal) I never like it. Even if they score from 25 yards. The boys tried everything. When we went 1-0 down we played like we wanted to before. We could have caused them more problems. We wanted to be braver in the second half. We played around them and should have played more into them.'
'It feels different. It's not bad to get to the final. I have the strong feeling that 'we come again'.
'Where's the final next year? Istanbul? Book the hotel.'
Thanks for joining us.
Liverpool will still hold a parade tomorrow on the streets of Liverpool after returning both English domestic cup competitions back into the account. The FA Cup and League Cup. Alongside that the LFC Women's team will be involved after they won the Championship.
The players will have a few weeks off (apart from internationals) then they will have to use tonight as motivation for next season.
And the last time they lost a final to Real Madrid they won the trophy the following season.