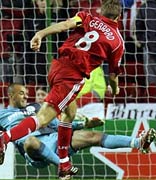 Rafa Benitez has heaped praise on the reds club captain ahead of today's important clash with Man City, insisting the player is on his way back to his best.
Confirming that he has the utmost faith and respect in the captain Rafa had this to say about Gerrard.
"I really think Steven is an amazing player, he is always thinking about what he can do, he has such quality that he is a player you cannot stop," Benitez said.
"He is always thinking now about how he can improve the team, he is capable of doing that."He can still improve. I say to him he needs to know his team-mates and the players he has in front of him. If we play with two wingers and two strikers, he must concentrate and be careful all the time because when he goes forward into the box, that can leave gaps behind.
"His strength is getting into the box. We saw that many times last season and this week against PSV. He must do this, he is so good at it.
"But he must also think about what he does. He must concentrate and be aware all the time what is going on around him. If we do not have a holding midfield player he knows he cannot run into the box as much as he would like."He must be careful. I have told him he must go forward but he must also be aware of what is happening behind his runs.
"He said he was close to his best, but I do not think so. He is much better but his potential is so high he can improve much more."
He added: "Steven can score a lot of goals because he has that quality. He now has greater confidence, he can score all sorts of goals."It has been difficult for him because he hasn't been scoring and everybody all the time is talking about it. Do not forget we are talking about young men, you try to support them but the player needs to produce his best level on the pitch.
"Maybe he has been worried, but he has trained really hard, worked at the problem and I am really happy for him. Steve knows as captain he must set an example."
Steven Gerrard will be up against his old playing partner Didi Hamann and fellow local lad Joey Barton in what might be a bruising encounter.