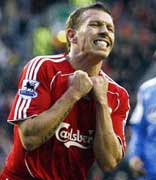 Rafa was pleased and relieved at today's 4-0 victory over Wigan Athletic.
It may have taken 8 games and 3 months but the reds have finally not only won away from Anfield in the Premiership but also scored from open play. Rafa felt it was vindication for his players.
"It could have been 2-6, it might have been better for everyone – but not the keepers," said Benitez after the game.
"We gave them some chances but we had many chances on the counter but it was a very good game especially for our fans.
"It was clear that we have been creating chances and we needed to score early and it was clear when we scored first we would then have more opportunities."
"To have Xabi Alonso and Steven Gerrard in the middle is very important to us, with Bellamy and Kuyt's work was unbelievable – the team was working hard and the quality made a big difference.
"We knew we had to keep the ball and be well organised. At the end of the day we have the result and will be really pleased."
"It's easier now for me to explain why I had confidence in this team because we have been creating a lot of chances away from home and the difference today was we scored goals," said Benitez.
"Every time we went forward we looked like scoring. We had a bit of luck as well because they had some clear chances, but it was a very good performance from the whole team.
"We had a lot of quality going forward with Gerrard and Alonso passing the ball well and I was pleased to see Bellamy score two good goals."
You and us too Rafa.