The capture in the past two days of Ryan Babel (£11.5 million) and Yossi Benayoun (£4.5 million) is Rafa's next step in the transformation of Liverpool in to the La Liga winning Valencia side of his from 3 years ago.
Rafa proudly unveiled the two new players at Anfield, with at least one more signing believed to be on the way.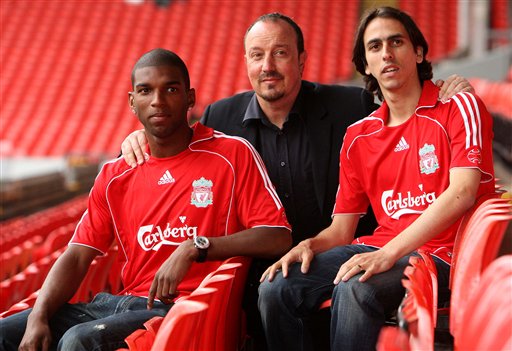 Speaking at today's press conference Rafa conceded that the weaker attacking performance over recent years was his top priority:
"Last season we were having a lot of chances, crossing and shooting more than anyone. But we needed to improve. Maybe with these players the crossing will be better and also the finishing."

"In Valencia we had three or four players all of whom could score ten or 15 goals a season. If you have a player who can score 20 goals a year, it's good. But he could get injured and the other team know he is the only one who can score."
Ryan Babel also spoke at the press conference:
"I don't want to go into exactly what Rafa said, but he said I could play in a lot of positions and after a couple of months he can see what the best position is for me. My favourite position is striker, but I can play in a number of different ones.

"I didn't actually know Liverpool had signed Torres because I was away on holiday. But of course he is a striker that I admire. If you want to learn how to score goals easily then he is one of the players to show you.
And Yossi Benayoun, the Israel captain was hoping to follow in the footsteps of the reds last Israeli player Ronny Rosenthal (but maybe without that infamous 'over the bar').
"Hopefully I will be the next Israeli to bring luck to Anfield and win the league again."

"West Ham are a big club and I've had a very good two seasons there. But I told West Ham from the beginning if I was ever going to leave them, then it would be for a club like Liverpool.

"I had two or three offers from other clubs, but I told them I would never leave unless it was for Liverpool because it's my dream. It's got nothing to do with money. I simply want to accomplish my dream."
Liverpool's net summer transfer spending now stands at about £20.3 million (£40.2 million in purchases and £19.9 million of players sold).