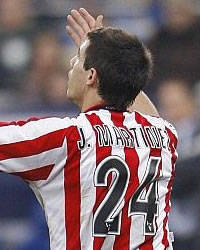 Rafa Benitez has dismissed recent speculation linking him with a January purchase of Athletico Bilbao star Javi Martinez.
The midfielder only moves from fellow Spanish club Osasuna in the summer for around £4 million, but already his supreme performances have had him linked with a move to a bigger European club.
But Rafa had this to say today:
"He is a young player who we know about because Bilbao paid good money for him.
"But we are not watching the player and are not thinking about signing him, as I have read in the Spanish press."
Martinez has scored three times in his 11 starts for Bilbao this season.