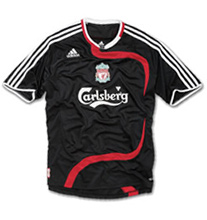 Following on from last weeks competition we have secured two of Liverpool's brand new European Away Shirts to give away. One of these will be given away in a competition in our LFC Forum - but we have one of the new shirts to give away via the website courtesy of online retailer Kitbag.
The reds new shirt is released on the 6th September 2007 and we will close this competition at midnight on the 25th August 2007.
This competition is now closed. 
We asked in what year did Liverpool win 5 trophies. The correct answer was of course 2001.
The winner of the competition was Robert Thompson.  The winner in the forum was Carol Johnson who was only about 10 seconds out with her guess of the time of Liverpool's first goal of the season.
Information on pre-ordering: Liverpool FC European Kit 2007/08