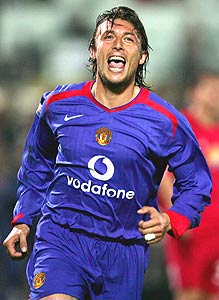 Alex Ferguson has insisted that there is no chance he will sell Gabriel Heinze to Liverpool despite the club appearing to be the player's preferred destination.
It is difficult to imagine if the decision is based on bitterness on the part of the Old Trafford boss, or a concern over Liverpool's title ambitions. In an era when football authorities talk about removing the nasty side of such rivalries it is a shame that the Manchester United boss appears to be as bitter towards our great club as some sections of supporters.
It has been reported the Reds made another offer of £6 million for the player this week, but Fergie today said:
"I can assure you, Liverpool will not be getting Gabriel Heinze. We can put that to bed right now and we have done so. We have had a couple offers for him and we have turned them down." (hic)
Gabriel Heinze is still of interest to Real Madrid and Inter Milan.
The news will come as a boost to John Arne Riise however, who has yet to sign a new contract, and is aware that the club have an abundance of players now capable of playing on the left wing. Speaking to the Echo, John Arne said:
"There have been a lot of rumours lately about new people coming to the club, so you know you need to step up a level.

"I've been working out during the summer because I wanted to show the manager I was fit and raring to go.

"Of course I've read the stories about possible signings, but you expect to hear a club like Liverpool is looking to bring in new players.

"So far I've enjoyed a good six years so I hope I've done more right than wrong during that time.

"I've been involved in more or less every game and I want that to continue. I want to finish my career here. Everyone knows that and there's nothing I'd like more than to sign a long-term contract.

"Nothing has happened on that, but there's no rush because I understand the club has been very busy signing new players."